Last Week in Review


"BLUE MOON...YOU SAW ME STANDING ALONE..." The Marcels Even a wish made on last week's semi-rare "Blue Moon" - the second full moon in one month - couldn't help Bonds shake off their own blues, worsening again for the fourth week in a row and causing home loan rates to rise by about .125%.
Why are Bonds experiencing so little love? Stronger than expected economic news driving investor money into Stocks and out of Bonds, and renewed concerns from the Fed about inflation. Let's unpack the major headlines.
Last week brought the Fed "Meeting Minutes", which give the behind-the-scenes talk amongst the Fed members from their last meeting. The commentary revealed that the Fed believes inflation, the arch enemy of Bonds and home loan rates, to still be "uncomfortably high". And even though last weeks Core Personal Consumption Expenditure report showed year-over-year inflation at 2%, finally within the Feds target zone of 1 - 2%, it just wasn't enough to help Bonds or home loan rates improve.
Additionally, the job market remains hot, as evidenced by the release of May's Jobs Report, showing stronger than expected job creations of 157,000. A tight labor market can lead to more inflation, so for one more week, Bonds and home loan rates remained out of luck, and out of love.
AND HAVE YOU FALLEN OUT OF LOVE WITH YOUR CELL PHONE PROVIDER...YET YOU'RE STUCK IN A "TIL DEATH DO WE PART" CONTRACT? NOW THERE'S AN ANSWER TO YOUR CELL PHONE CONTRACT BLUES - READ THIS WEEK'S MORTGAGE MARKET VIEW.
Forecast for the Week


After last week's star-studded line up of economic headlines, the week ahead will be a big change of pace, with a super slim economic calendar containing few scheduled releases to impact market movement. But in the absence of economic report activity, Traders turn greater attention to other factors, such as technical signals and other markets like Stocks.
Stocks have been on a blazing path higher, so investors have been pulling money from Bonds and moving them into Stocks to "get on the ride". And think about it - anytime the demand for something decreases, the price gets lower. (Think 8-track tapes and Walkmans.) So as the demand for Bonds gets lower in favor of Stocks, which are presently providing a much juicier rate of return, the price of unpopular Bonds gets lower and lower, meaning home loan rates are worsening.
So Stocks aren't helping matters much in terms of home loan rates - and technical factors really aren't running in favor of Bonds either. The chart below shows how Bond prices have been on an ugly downward sloping trend since May 8th. Again, this means that home loan rates have been moving higher.
What's ahead? Unfortunately, very likely more of the same...meaning home loan rates will continue to move higher, at least until some catalyst arrives to stop the ugly worsening trend.
Chart: Fannie Mae 5.5% Mortgage Bond (Friday Jun 01, 2007)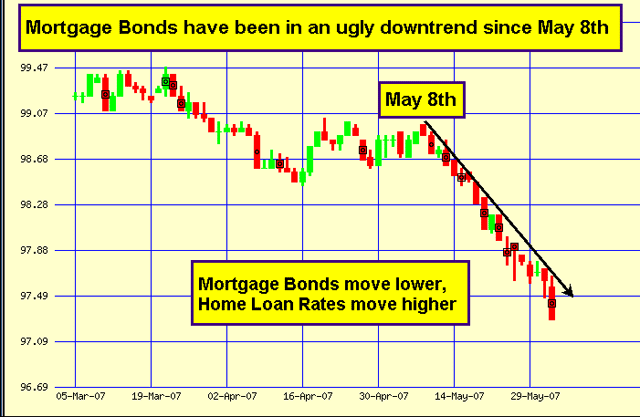 The Mortgage Market View...


STUCK IN THE MIDDLE WITH YOU...
Those infamous cell phone contracts can make anyone feel like they are stuck for life, caught in a nasty web of legal jargon with no way out. And with many service providers offering tasty incentives coupled with better than ever low price calling plans, it is no wonder that many people want to jump ship from one provider and start sailing with a new one. But with pricey early termination fees that can easily be up to $250 or more, customers are virtually held hostage, locked up in contracts that sometimes last for years.
But now - there may be a solution that sets you free!
Rather than waiting for a contract to expire, there's a new alternative that allows cell phone customers to avoid the early termination fee and keep their cell phone numbers. Here's how it works.
You can actually sell the balance of your cell phone contract to someone else who wishes to take it over...and more people are opting to do this every single day. As the seller, you get out of your contract with no termination fees and are free to move on. The buyer of your contract gets a short term cell phone plan with no activation fee! In some cases, the seller sweetens the pot further by throwing in their existing phone for free, or even offering a cash incentive to the buyer.
Simply logon to either http://www.celltradeusa.com/ or http://www.cellswapper.com/, enter all of the information about the contract you want to get out of, then simply wait for someone to jump on the deal and offer to take over your contract. Once someone shows interest, the service provider is contacted and the buyer needs to obtain normal credit approval to take over the plan. As long as the buyer checks out, the service provider will make the change. The cost to the seller for this service ranges from $0 - $19.99 but in comparison to an early termination fee, it's pretty minimal.
In some cases, cell phone service providers may amend your contract if you can prove that a life change has happened that no longer makes their service usable, such as a move to an area that is not covered within their network. But if you just want out...try selling your contract, and be set free!
The Week's Economic Indicator Calendar

Remember, as a general rule, weaker than expected economic data is good for rates, while positive data causes rates to rise.
Economic Calendar for the Week of June 04 - June 08
| | | | | | | | |
| --- | --- | --- | --- | --- | --- | --- | --- |
| Date | ET | Economic Report | For | Estimate | Actual | Prior | Impact |
| Tue. June 05 | 10:00 | ISM Services Index | May | 55.0 | | 56.0 | Moderate |
| Wed. June 06 | 10:30 | Crude Inventories | 6/01 | NA | | NA | Moderate |
| Thu. June 07 | 08:30 | Jobless Claims (Initial) | 6/02 | NA | | NA | Moderate |
| Fri. June 08 | 08:30 | Balance of Trade | Apr | -$63.0B | | -$63.9B | Moderate |