The latest gadget from Apple is coming out on the 29th of June and it is set to revolutionize how people use and think about their cell phones. The iPhone is really 3 devices in one: a cell phone, a video iPod and an internet browser with email. As they did with the iPod, the iPhone has been designed to work within a simple, modern interface which makes it very intuitive to use for users of all levels.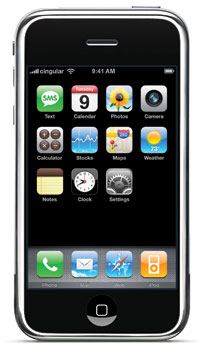 The iPhone will be able to do some things for REALTORS that other portable devices can't do or at least do as well. Firstly the design is simple, yet impressively sleek. This is something that Apple does so well and definitely will give the iPhone a wow factor well into the future as Motorola, Palm and RIM have a long way to go to catch up. Obviously this will show clients that you are up with the latest technology and have style doing it. But that is really just superficial, its whats it can do for your business that really counts.
The phone is operated by a 3.5 touchscreen display that you use without a stulus pen. It does operate on quad-band which means you can take it around the world without any issues. As far as its size, it is about the same size as a Palm Treo 750. One very nice touch for REALTORS is visual voicemail which shows you all your voicemail in a list and allows you to select which voicemails you want to listen to as opposed to just wading through skipping, saving and deleting message after message.
At the end of the day it's a cell phone, a really nice cell phone that has some features that could benefit agents. Do REALTORS need to rush out and get one? Probably not if you are already using a Treo or Blackberry. I would wait until it dies and then think about it. The price will have come down by then!

REALTOR PROS
Looks really slick! People will want to talk to you (at least for a while) just to see your phone
Allows you to access your website online - Warning not all MLS's are compatible with Safari (Mac Internet Browser)

Large screen will allow you to show clients internet listings and virtual tours/video anywhere.
Allows you to visually view all your voice mail
Will sync with your contacts on your computer (outlook)
Has your email account accessible 24/7 (pop & IMAP4)
2 megapixel digital camera with photos you can email from your phone to anyone

4 or 8 Gigabytes of data storage - you can use it for more than storing your Hall and Oates collection
Simple to use intuitive user interface
Built in microphone for on the fly recording

Conference calling built in
Google maps support
Calendar/Organizer application
REALTOR CONS
Price (4GB will be $499 (2 year contract) and 8GB will be $599 ( 2 year contract)
It will not work with Supra Lock boxes like the Treo
There is a good chance it will not allow you to access the MLS through its Safari internet browser
You have be on the AT&T (formerly Cingular) network if you want one when they launch or for a good while thereafter. (only a con if you are not on AT&T)
Cheers,
Scott Lockhart
www.atlantarealestate.net