What is your favorite moment when you arrive at a destination for vacation? Is it the calm and refreshing feeling of being welcomed into the thoughtfully-appointed hotel lobby? Surrounded by warm colors and manicured greenery, are you lured into relaxing? Possibly it is the mere inhalation of the sweet-smelling air from a clean room? Perhaps it is the attention to details which you casually note. Somehow, you felt embraced by the overall wonderful feelings of your first impressions and you relaxed into your own private Shangri-La.
Isn't this how we all want to happily relax after our day is completed?
Each one of us pretty much has the same desires and needs when it comes to the relaxing feelings we crave while living in the place we call...Home.
When we are looking to purchase a new home, we search and hope to find that perfect opportunity to discover our new Shangri-La.
So here is the dilemma. How do you activate your home's Shangri-La to welcome new owners?
Because we all have different tastes and styles of living, it is often a challenge to envision our personal home in a different light. Home Staging professionals have the discerning eye which benefits every home seller. Staging will help guide your potential buyer to the 'I can see myself and family living here' feeling which every home-buyer is seeking.
Ahhh....this is where the magic begins. HOME STAGING. A professional Home Stager has the creativity needed to bring out the personality of a home. Stagers are a homeowner's ally because they want to help you create more home value and improve your selling position. These talented professionals will fashion more universal and inviting spaces within your home! (Pssst...and by you trusting the professional's direction on recommended improvements, your home will more likely display the necessary appeal to attract serious potential buyers!)
It is imperative to think about the impact of HGTV on our lives. Home buyers today have much higher expectations than in the past! The fabulous and creative home programs have shown us in less than 30 minutes, how to identify and organize cleaner spaces, increase curb appeal, redecorate using your grandmother's vintage china....the shows are endless. They are fun and intriguing to watch aren't they? The general public has changed and improved their knowledge when it comes to expectations of home living.
So what does this change of viewpoint mean for the home SELLER? You can no longer be complacent when you are competing in today's real estate market. It's SHOW TIME!
Yes, you read that correctly. It is a fierce competition out there in the home seller's market and you need to be prepared to run in this race if you want to reach the finish line faster. Hiring the expertise of a professional Home Stager in your area will more than pay for itself when your home sells. 90% of buyers can not easily picture themselves living in your home. They need help to visualize your home as their Shangri-La. There is no question as to what the smart seller must do - Hire a Home Stager!
There are many, many small details which make a huge difference when preparing your home to sell. That pile of old papers and magazines in the bedroom corner, which is barely noticed by you, becomes a stand-out distraction to a potential buyer when they walk through your home. Perhaps too many framed photos of the children growing up can unintentionally cause the buyer to feel as though they are invading your family's sanctuary. It can be a challenge for many prospective buyers to picture themselves living their Shangri-La in your most private rooms and spaces. There are countless benefits to you when hiring a professional Home Stager. They can assist not only with the most important details of preparing a home for sale, they will also provide great suggestions for ways to increase your home's value. When you choose to work with a Home Stager, you will improve your chances of selling your home for more money in your pocket.
Let's face it, times have changed. The Real Estate marketplace is ever-evolving in many areas and our expectations as homebuyers have reached new levels. Television home shows have increased our awareness and desire to reach for new heights in home design and decor. What should you do if you want to sell your home? Your best choice is to consult with a professional Home Stager and let them help you. You will then have a better advantage over the many other homes on the market in your area. Plus, it is likely you will increase the selling value of your home as well!
Now think back to the inviting feelings at the beginning of this article....smell the freshness of the arranged cut-flowers in the reception lobby, your nerves are calmed by the clean living and sleeping quarters, and your sense of relaxation and general well-being feels good. You cherish these feelings and you want to remain there longer. In fact, you make a vow to return because those nice feelings are ones to remember.
Ah-ha! That's the result you desire from buyers after staging your home to sell - you want the interested buyers to return and offer a great contract to purchase your home.
Every piece of real estate property can be strategically and creatively enhanced through hiring a professional Home Stager. All properties are unique and want to be noticed...and every Buyer desires to own a piece of Shangri-La.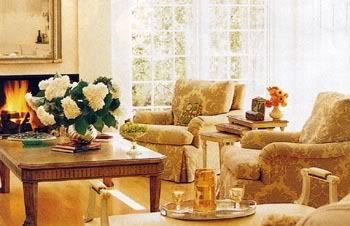 Written by: Kathleen Garvey, Enhanced Interiors & Home Staging, Fort Myers, Florida
Email us at: Enhancedinteriors@gmail.com