Go Smart Solutions has created VidShout to satisfy the need for entrepreneurs, small and mid-sized businesses, and large corporations, the ability to add video to their online advertising efforts and get in front of the growing number of consumers and businesses who are using online videos as a way to research products and services online.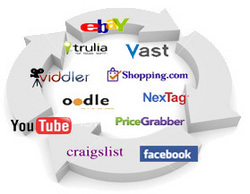 Video Distribution
VidShout's self service platform allows users to create video ads from photos using its online video wizard and syndicate their video ads across multiple online networks. The video distribution provided by VidShout includes over 60 online properties including video networks, online directories, shopping sites, and social networks making it a powerful online advertising platform for businesses.
VidShout members create a profile and upload photos to create a video. Once photos are uploaded users choose to add music or their own voice file in .mp3 format as well as a custom banner for their video page. Users also have the option of uploading their own videos to the Vidshout platform.
Vidshout is a lead generating powerhouse. Each video a user creates using the VidShout platform automatically generates a free landing page that is fully branded and search engine optimized. Once a video is created using the video creation wizard or an existing video is uploaded to the Vidshout Platform users can then create a video landing page.
Landing pages created using the VidShout platform act like mini websites for online video ads. Users can add a description of their online video, their contact information, their logo, and a header. User can then choose their landing page from multiple landing page templates within the VidShout platform. Each landing page includes call to action forms, and links, making it easy for businesses to capture leads from their online video advertising efforts.
The Vidshout platform comes full circle by distributing its users' videos across over 60 social networks and directories including Youtube, Vimeo, Google Base, PriceGrabber, eBay, Yahoo Shopping, Facebook, Twitter. VidShout has an activity and leads reporting tool that allows users to track opens, clicks, and leads generated to and from their videos.
Vidshout is affordable for every budget with a 20% discount for yearly plans. This cost effective self-service video marketing platform allows users the ability to use one video advertising platform to create lead generating online advertising campaigns that are easy to create, facilitate, manage and track their campaign's effectiveness and their ROI.
VidShout is part of the Go Smart Solutions, LLC ad service family. It is an online video advertising solution for businesses. Its user-friendly self-service platform allows members to create professional videos and search engine friendly landing pages which are distributed to a host of online directories, video networks, shopping sites, and social networks.
A cost-effective online advertising solution, VidShout also offers a powerful API that enables affiliates, resellers, software developers, or bulk advertisers to interface with its video advertising system. For more information visit www.vidshout.com.