Why waiting for the bottom could cost you this year!
One thing I constantly hear in the Niles Mi Real Estate market is that people are waiting for the "bottom" of the market.  "I'm trying to time the market to get the most bang for my buck", "I want to get a house for the least amount of money".  I know you have heard something similar to this, or have said something like this yourself.  
I am here to get you out of this train of thinking as it will actually cost you MORE to wait for "the bottom of the market".  First of all what makes you think that we are not at the bottom of the market?  What indicates to you that prices are going to lower?  Waiting could not only cost you extra money, but it can also cost you the home of your dreams.  
Over the next year we are likely to see the interest rates climb a full point.  MBA, NAR, and PMI all estimate the interest rate will hit 5.5 by the end of the year.  What does that mean for you?  Let me lay this out for you as simply as I can.  If homes prices were to drop another 10%, but the interest rate go up 1% you will have the same monthly payment.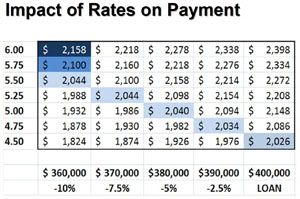 The chart above shows you how waiting can cost your dearly. Even though you get the home at a substantial price drop.  The market is constantly moving and changing, so don't leave your future to chance, and get that dream house at the already low prices, AND low interest rates before the market starts to climb.