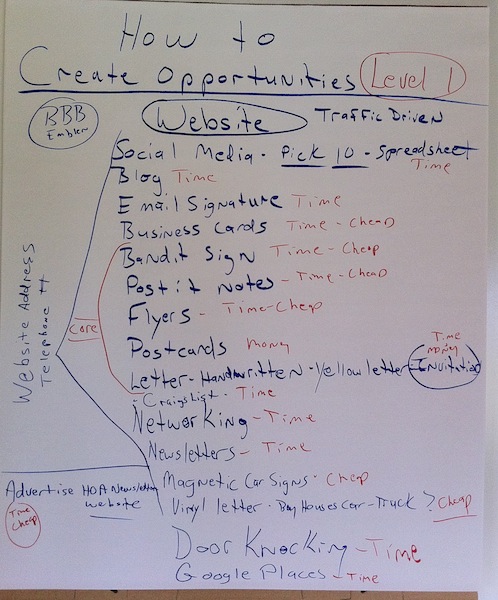 18 Ways to Create Opportunities
You want to grow your business, but how? How do you promote yourself and what you do?
At a recent Mastermind Meeting, for one of our newer students we made a list of ways to create opportunities – some take your time, some take your money. Which do you have more of? And maybe that changes. Here are some things we came up with.
your website. Do you have one? You should.
social media – Facebook, Twitter, Linked-in. How are you connected?
blog – pretty big time commitment. Do you have the time?
email signature – great place to describe what you do or add links to your sites
business cards – get them and hand them out!
bandit signs – know your local laws before you put them out
post-it notes – requires going door-to-door
flyers – inexpensive and easy to distribute
postcards – more expensive but more targeted
handwritten letters
craigslist
networking – in person, not just online
newsletters – create your own or write for neighborhood papers
magnetic car signs
vinyl letters or wrap your vehicle
door knocking – may need solicitors license
google places – great place to advertise
HOA newsletters / websites
What can you add to our list?