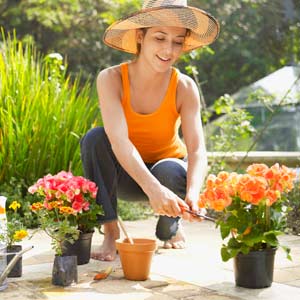 Summertime is finally here! Here's a list of things to do this month to help get your garden growing for summer, provided by MSN Real Estate.
Plant extra bulbs now for a burst of brightness later in the summer.
Water at cooler times of the day to prevent quick evaporation and lower your water bills.
'Color spots'
For splashes on color in early summer, select bright nursery annuals already in bloom.
Perennials are June-perfect planters
Plant flowering perennials of all kinds for late spring, summer and fall blooms: Oriental poppy, foxglove, salvia, aster, colubine, delphinium, feverfew and heuchera name a few.
Lawn Care
If your lawn needs aerating, it's not too late to perforate away.
Overseed or reseed those stubborn scraggly spots.
Fertilize now, if you haven't already.
Think conservatively when it comes to watering.
After mowing, leave grass cuttings on the ground to recycle all the good nutrients.
Vegetables and Herbs
Now is your last chance for sowing squash and cucumber seeds.
Corn, eggplant, peppers and tomatoes should also be planted as soon as possible.
To expand your harvesting season, start planting successive crops of lettuce, spinach, carrots, chard, beets, and peas.
Fertilizing
All plants that are having a hard time springing back from winter should recieve a mild feeding.
Fertilize roses now and each month through the summer.
Allow spring-flowering plants to bloom before you feed them.
Hold off on fertilizing tomatoes until their first fruit has set.