We Buy Houses - Moncks Corner SC: What do you think your house is worth today on the real estate market? That's a question that has a very interesting answer. In fact there may be more than one answer depending on who you ask. Homeowners tend to think of their homes as much more valuable than they really are. For example, if you paid $100k for your house ten years ago, you'd think it had appreciated over the years. And then there's that nice room addition you put on the kitchen so the sun would be there in the morning for breakfast. That should be worth something.
The fact of the matter is that homes are not necessarily worth even what they were ten years ago. They may have appreciated somewhat in value, but over the last few years have taken a definite downturn. Instead of your house being worth more now than when you bought it, it may well be worth less. Many people are finding that they now owe more on their mortgage than what their home is valued at on the open market today.
This is where the disparity in price comes in. You bought the house for $100k and did some improvement. In your eyes, the house is worth at least $120k. In the real world of real estate, though, if you were to sell your house today you might be able to get somewhere around $90k for it. This is just theoretical, of course, and designed to illustrate a point. Homeowners tend to value their property higher than what they can truly get for it when they calculate their asking price.
Listing your house at a price that's too high for buyers to bite at will delay the sale of your house and will cause you to have to lower the price once you realize that it is too high. The trouble with that is the perception of buyers when you lower your price. They think someone must have found something wrong with it and backed out, so you lowered the price to attract more buyers even with the flaw. While that's not a true accounting of why you'd have to lower your overinflated price if you ask too much to begin with, it is a realistic look into the minds of today's buyers. The best way to price your house is just below current market value and stay with that price until it's sold.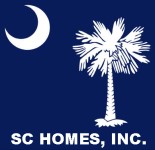 SCHomeBuyers.net is a Real Estate Investor that buys houses in the Charleston SC area. Summerville, Goose Creek, Mount Pleasant, West Ashley, and James Island. If you have a home that you need to sell, contact us to see how we can buy your houses in 7 days or less and close when you want!
We buy houses in all areas of Charleston South Carolina and Goose Creek and all surrounding areas!
Call us direct at: (843) 883-3319 to Sell Your House Fast in South Carolina!
Not in Charleston South Carolina and Have a House to Sell?