California is known for the gold discovery, which acted as catalyst for hoards of pioneers and wagon trains finding their way into this state, after James Marshall discovered the golden ore at Sutter's Mill in 1849. However, there is another golden treasure in the hills of the California Mother Lode. Each year at this time, Amador County comes alive with an explosion of yellow Daffodils.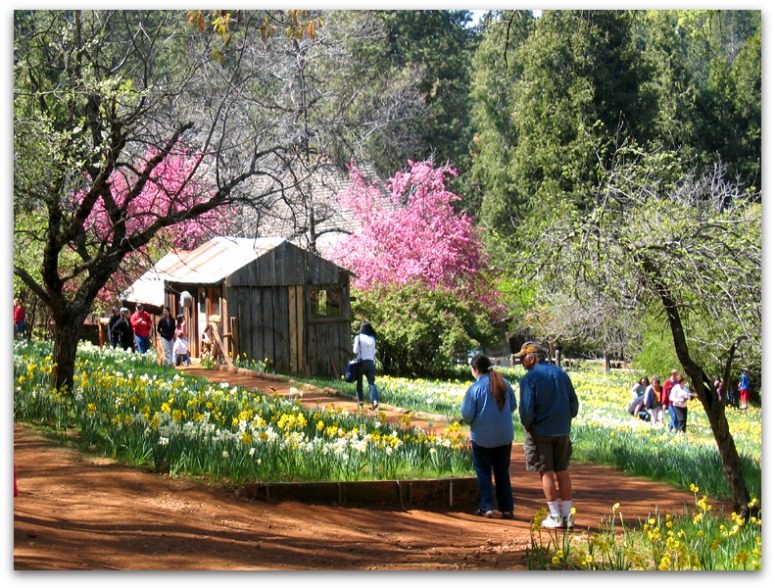 It all happens at Daffodil Hill, cradled in the quaint little Mother Lode town of "Volcano."

The 4 acre farm has been in the McLaughlin family since 1887. During the past two decades, the family has planted 6,000 new bulbs each year, continuing the family tradition and legacy. Over 300,000 bulbs are estimated to now populate the farm.

Opening and Closing date for Daffodil Hill varies from year to year, depending on the blooming season. But usual showing of the blossoms is mid March to Mid April.

Available driving instructions state Daffodil Hill is anywhere from 39 to 50 miles from Sacramento. There are several meandering routes, which will take you there.

I usually travel highway 16 out of Sacramento, which journeys trough Sloughhouse. I turn toward Amador City, and Sutter Creek on Highway 49. And turn left on Church Street directly off highway 49 in Sutter Creek.

You can visit the Amador County Chamber of Commerce website page devoted to Daffodil Hill for more information!
I take pictures for the purpose of remembering fond times. I do not impose copyright restrictions on this photo, so you may feel free to use, or distribute as you wish. However, should you need a Real Estate Professional in the Greater Sacramento area, I hope that you will contact me by email or by visiting my website www.myrljeffcoat.com - Thank You!