Bergen County New Jersey Real Estate Newsletter | April 2012



Hi everyone
and Lisa says Hi!




It's April 2012

Spring arrived March 20th this year.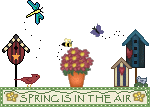 The month of March had brought with it the some very unusually warm temperatures here in the Northeast.

In fact it set a record as the 3rd driest March ever recorded.

After last years storm after storm weather patterns, this came as quite a pleasant suprise for us here in NJ.


These little crocus have been popping up all over.





Can It Be April 2012' Already?


Wow, where has the time gone?


Along with the Forsythia, our April Real Estate Newsletter has arrived.



The Real estate market is moving forward with many homes selling.

The savvy buyers who are coming out and viewing homes have a great selection of homes to choose from.

Here's HammersTeam's Newest Listing on the prestigious West Hill of Hillsdale New Jersey:

Please click the picture below for a walkthrough of this loveley home.


Customers have been connecting with us through the Internet and we are keeping an eye on
Bergen County New Jersey Homes For Sale Market for you.


We believe buyers are starting to realize that prices as well as interest rates are not going to be staying low forever. In fact they have crept up just recently making this possibly your last chance to get these historically low rates.

It remains an opportune time right now to buy the home of your dreams.


We are excited at the possibilities available for first time home buyers as well as sellers looking to move up.







Historically, interest rates have never been this low.

How long will this last?

No one knows for sure, so First Time Home buyers have a wonderful opportunity right now to get a terrific rate on a mortgage.

Either moving up or buying for the first time, now is a great time to make the move to
Home Ownership.


This Month's Newsletter is full of interesting and useful information that we think you will enjoy whether you are a buyer, seller, homeowner, or renter.

Bergen County New Jersey Real Estate Newsletter | April 2012


This month's issue includes topics such as:

"What Can You Do To Get Your Home Sold?";

"Remodeling Improvements That Entice Buyers";

"Mortgage Interest Deduction";

"Should I Accept This Offer?";

"First Time Buyers: Preparing To Move Forward";


Plus a roundup of March real estate activity as well as much more advice and information.

Bergen County New Jersey Real Estate Newsletter | April 2012

Please Click on the button below to access our newsletter: