Auburn WA continues to be an area where distressed property sales make up almost half of all closed residential sales. It's also an area where homes are selling quickly and within 99% of asking price.
Using information gathered gleaned from the local Multiple Listing Service, shows that for the period January 1 through March 31, 2012 the important numbers are:
215 Total number of completed (closed) sales of residential properties

51 Number of New Construction properties sold

$61,750 Low price

$620,000 High price

$219,950 Median price

$228,741 Average price

123 Days Average Days on Market (the amount of time before a home listing receives an offer and it is accepted by both the Seller and the Buyer)

5 Months! Approximate Absorption rate (the amount of time it would take to sell all properties looking at a per month closed sale volume based on a the last six months)
Of the 215 closed sales, 102 of them fell into the Short Sale (31 sales) and REO/Bank-Owned (71 sales) -- a full 47% of the total for the quarter, producing both good news and not-so-good news.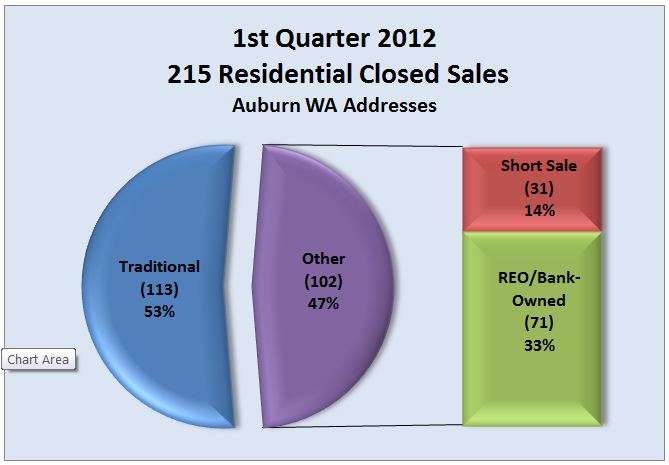 Good news? = Homes are selling and selling quickly including bank-owned and short sale properties.
Not-so-good news? = Distressed properties continue to account for almost half of all properties sold in this area of King and Pierce County (remember that Auburn straddles both counties).
So what does this all mean?
Properties are selling and selling in a reasonable amount of time -- just under four months. There's about a five month inventory of homes in Auburn, meaning that, at the moment, Auburn is in a balanced market. Buyers are not as likely to make a low offer and get the house, especially considering that a full 33% of all closed sales are homes that have already been foreclosed and are bank or corporate owned. Bank-owned homes tend to be priced somewhat lower than traditional sales and sales move along fairly quickly.
I can tell you from working hard in Auburn during this time period, that multiple offers are happening! I've personally been involved with a number of all-cash and full-price offer competing offer situations.
If you are considering a move in the Auburn, WA area ... whether to buy a first home, a second home, an investment property, or wish to sell and move ... you need to get in the game!
If you're in a situation where you believe you need to short-sell your home, you especially need to get in the game now! Remember that the IRS Debt-Forgiveness Act is currently due to expire at the end of 2012. While I'm not a tax accountant and you should definitely consult with one during a short sale, bear in mind that you'll want to avoid paying income taxes on any amount that is forgiven by your bank. Let's get that home listed and sold while sales are happening!