Imagine the noise, the crowd is going wild, the smell of fresh cooked hot dogs, roasted peanuts, and popcorn is everywhere! Wh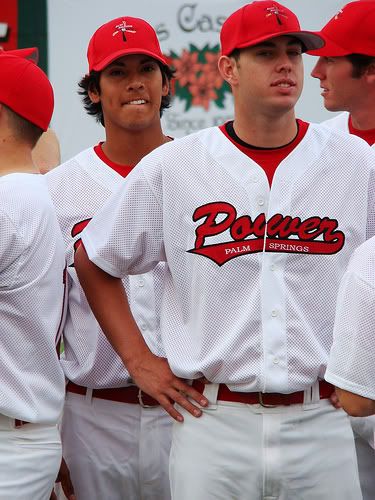 ere are you? Palm Springs Stadium is where you should be, completely losing yourself in the joy of one of America's favorite past times -- baseball.
Palm Springs Power Baseball has formed teams annually, with returning players helping to earn the love of fans all over. They play baseball and collect toys among many other things. Most recently was their "Christmas in July" game that requested the help of fans to gather loads of toys to be sent to Toys for Tots for Christmas. With the help of their mascot, Rocky the Ram, and all the "power fans", dozens of toys were gathered to give. The Palm Springs Power compete in the Southern California Collegiate Baseball Association, which consists of six teams - East L.A. Dodgers, So Cal Bears (Fontana), California Glory (Ontario), Fire (Orange County), and Saints (Dominguez Hills).
This power baseball reaches out to the community at large, and offers an activity involving good family fun and enjoyment for everyone. Here you are able to see some terrific baseball players and some great baseball action! They are often found raising money, planning toy drives, or donating to the community. The power baseball players want to their community to be strong, happy and taken care of. The doors are open to everyone, young, old, single, married, kids or not -- they just want more power fans to rock the stadium and raise the cheers!
Last season was a fabulous year for them, and they ended the season on a good note with a great finish of 37-11. This improved their 4 year overall record to 137 wins and only 59 losses giving them an awesome percentage of .700. For those of you that love and enjoy one of America's favorite sports
, here at Palm Springs Power Baseball there is fun, food, and entertainment to be had for all. You get to see new players in a new season, giving some of their best to the sport as well as returning players that have become favorites of the power fans over the years. With the help of the fans, power baseball has rapidly become a popular way to enjoy the baseball season with an emphasis on community and fun.
With returning manager, Estevan Valencia having signed on for the 2008 season, a familiar face will be there to ensure a great season including new and old players as well as the most important factor of new and old power fans. The fans here are encouraged to participate in the games by giving support for their home team and by enjoying themselves for the duration of the season.
The new season in 2008
holds hopes for an even better time, higher averages, more fun, and new power fans. For a full schedule plan, general information, or any other Power Baseball facts you would like to know, you can find them at: http://www.palmspringspowerbaseball.com/ where the real fans know the right stuff!
Whether you are a local resident or a traveling visitor to Palm Springs, you are welcome at the Palm Springs Stadium. You, your family, your friends, and neighbors. Come out and show your support for Palm Springs Power Baseball and for the men and women trying to build a community sport, community togetherness, and community fun! Join the fun and proudly carry your title of power fan in the 2008 season. Tell me about your local team!