What is going on in the Idaho real estate market in the Treasure Valley?
Let's take a look at the recent activity from our Intermountain MLS Data for real estate activity in the Boise area:

Boise Capitol
The following chart shows activity comparisons of number of homes sold in any given month from 2004 through December of 2007 in the Boise valley. 2005 was obviously the peak year for Idaho Real Estate as well as for real estate across the country. There are some strong economic indicators for growth in 2008. I think we have reached the bottom of the pricing range for the Boise Idaho Real Estate Market: Now we hope to see the numbers of homes sold start to climb again in 2008. There are some great buys on homes, low interest rates & a great, diverse economy in our valley... Go buy a house!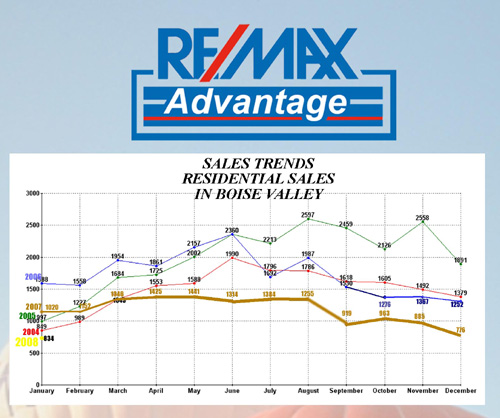 2006 started out strong in number of units sold, but started to fall off in July, with a slight increase in August and dropping steadily in September and October. Idaho real estate appreciated at a rate of 2.9% throughout 2007. This year has remained very steady with a "normal" amount of activity, slowing off a bit for the winter months, however. I believe with low interest rates and an excellent job market, the Boise valley will experience another slight increase in values and activity by Summer of 2008. January's numbers already indicate that there is more activity since the end of 2007! Numbers are up by 58 units!
You can also view the State of Idaho Real Estate with more graphs and some information from our Idaho Association of Realtors!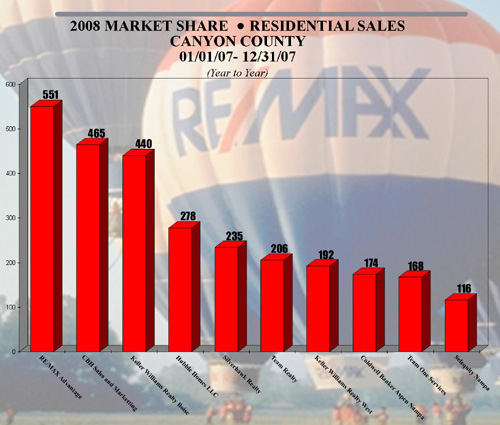 As far as who is doing all the selling; above you will see a bar graph showing the top real estate offices in Canyon County. RE/MAX Advantage continues to be blessed with "Outstanding Agents, Outstanding Results." "Nobody sells more Real Estate than RE/MAX".....even in the Boise Real Estate Market!
Read about the #1 Real Estate Office in Canyon County!
Since July of 2002, RE/MAX Advantage in Nampa, Idaho has held the number one market share position in Canyon County. This means more exposure for your property listings and more inventory to select from if you are buying. RE/MAX agents, statistically, out perform the masses of licensed sales people in our industry. Having more experience and higher education, our agents are true professionals in their field.
If you have real estate needs or wish to invest in this growing market we live in, please don't hesitate to contact me soon for a quick consultation on how we can meet your needs. It's a great time to buy Idaho Real Estate! Boise Real Estate and Nampa Real Estate; when purchased with the advice of a Realtor, can be the best investment you can make!