Goal Setting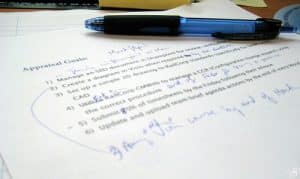 With 2014 just around the corner, lots of agents are talking about goal setting. How many transactions will you close? How much money will you earn? How much would you like to earn? There is a lot that goes into the process of successful goal setting.
On Thursday, I had the opporunity to speak at an event sponsored by Chase Bank called "Old School vs. New School Marketing." And, just as do many of the members of Active Rain, I also preach a combination of both "old school" and "new school" techniques, as I believe this leads to more continued success in real estate.
Step #1 - Set Income Goals
Step 1 of successful goal setting is to set your income goals. Once you set your income goals and calculate the number of closings that you require each month in order to meet your income goals, then you are ready to consider the actions required to meet your goals (that's step 2, and a conversation for another day).
Good goal setting means you have to work backwards. You know what you want, then you need to figure out a structure that will lead you to what you want. Below I am going to assist you in figuring out what you want—that is, the number of closings you need in order to meet your income goals.
Download the chart below, which is a page from my book The Essential Daily Planner for Real Estate Agents: Success in 10 Minutes a Day, and use it to calculate your income goals for 2014. As I state in the daily planner, "Something magical happens when you put your goals to paper. It's like once they are written, they will happen."
Real Estate Agents - Income Goal Setting Chart by Melissa Rose Zavala
The team at Broadpoint Properties and Transaction 911 wishes you much success in meeting your income goals in 2014. If there is anything that we can do to help you with that, please do not hesitate to contact our office.