OPEN HOUSE For 5 Bed 4.5 Bath Mesa, AZ Custom Home On Cul-de-sac Lot - No HOA!

OPEN HOUSE:

4/08, Saturday 11:00 A.M. - 3:00 P.M.
Did you like the aerial views of this 5 bed 4.5 bath custom home with detached casita and diving pool? Of course, there's absolutely more than meets the eye to this Mesa, AZ home for sale on a cul-de-sac lot!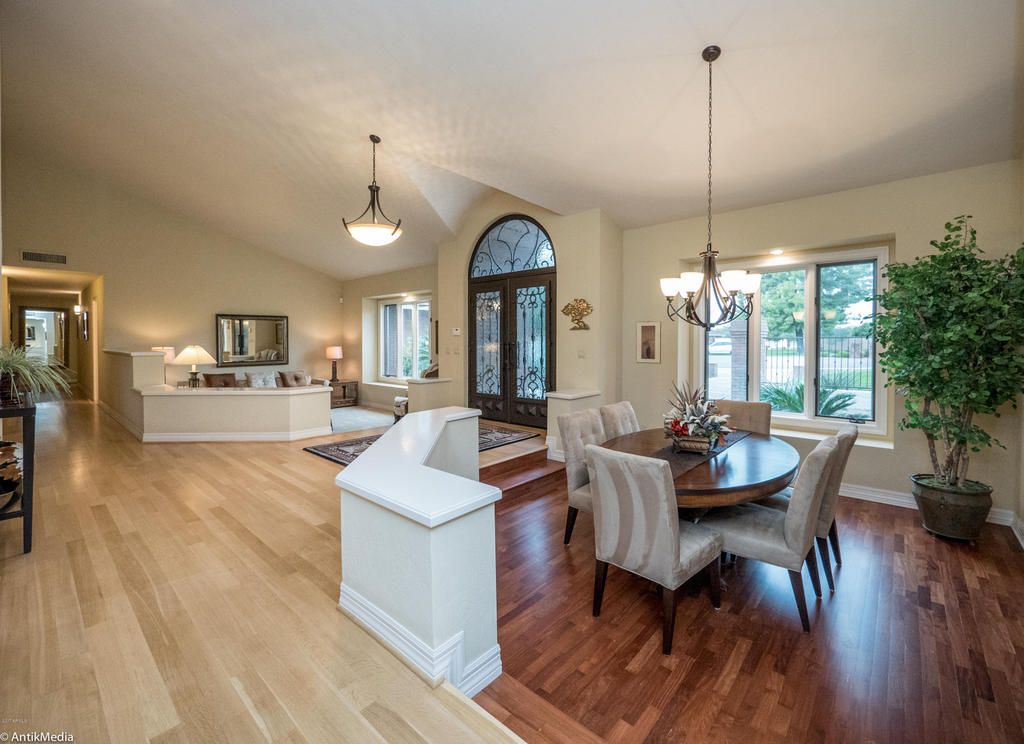 FIRST IMPRESSION DOORS custom metal door and glass, custom-made removable summer sun shades, new chandeliers and new wall light sconces in the hallways.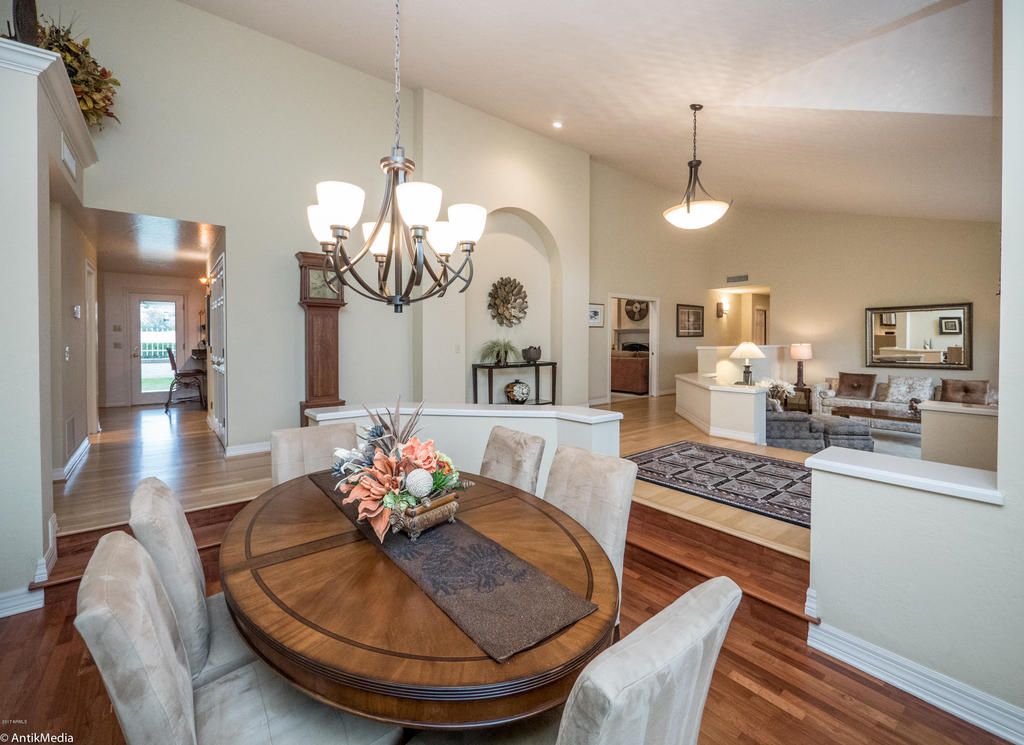 Formal dining with Camse special flooring, a unique import from Laos which is stapled to an anchored 3/4 inch CDX plywood subfloor with 6 mil moisture barrier and finished with the same four coat system of water borne coatings.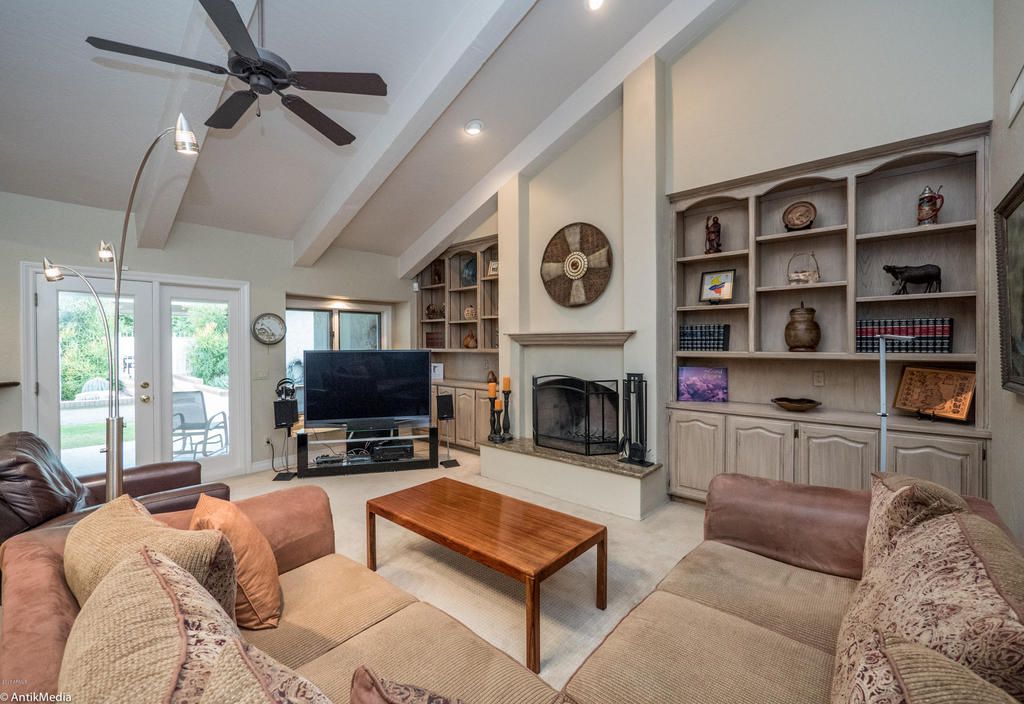 Family room with wet bar area, track light system, new fan, sliding screen door added to the exterior door and covered fireplace with marble slab and professionally swept chimney under T & G planks between beams.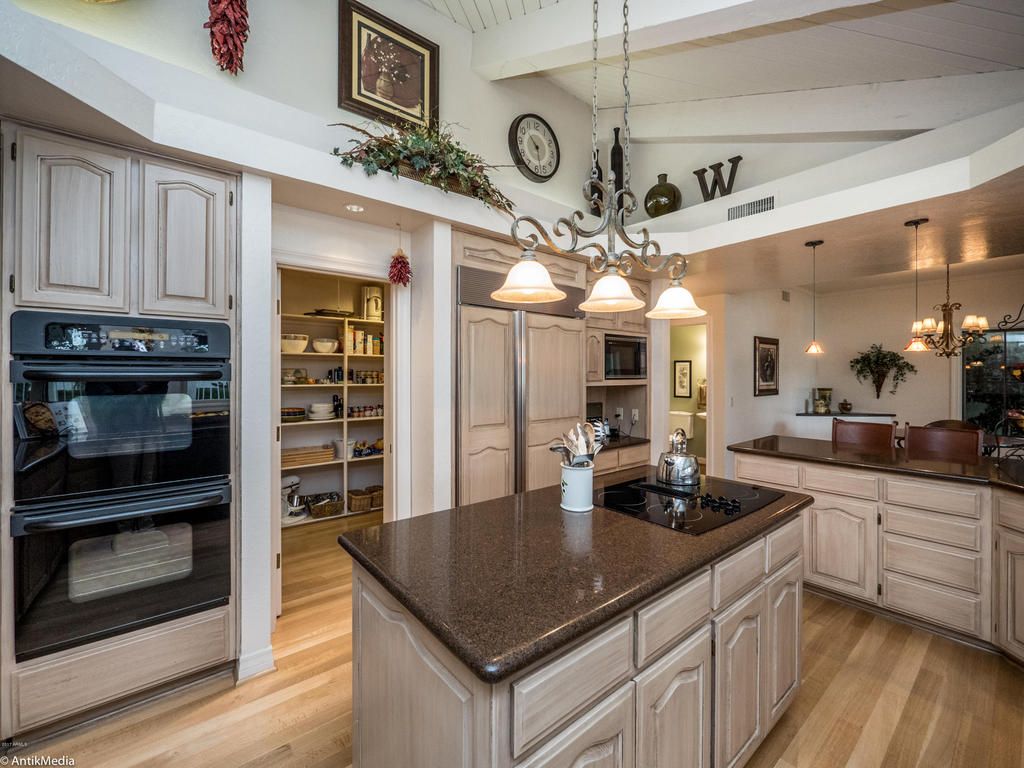 Kitchen with breakfast nook, walk-in pantry, four hanging light fixtures, silestone counters throughout, reverse osmosis water purification system, SUB ZERO refrigerator, 2015 Bosch Dishwasher, two ovens, new kitchen island cook top and new garbage disposal system.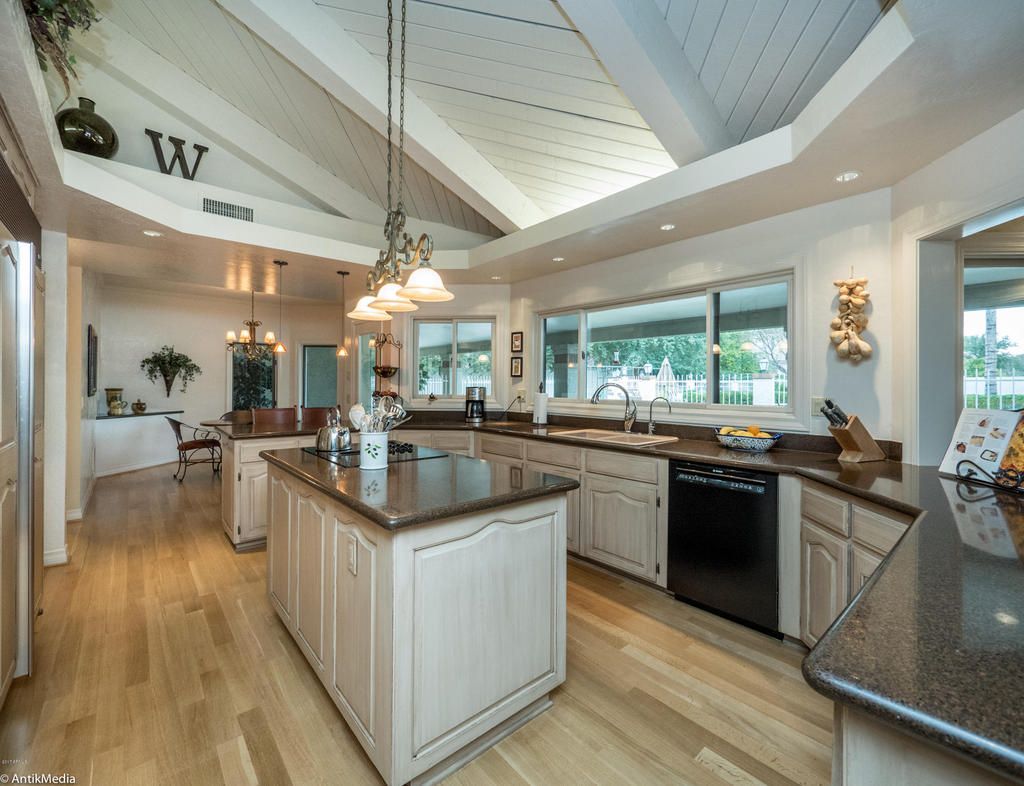 Additionally, the overhead cutout above the kitchen was expanded with new recessed lights added.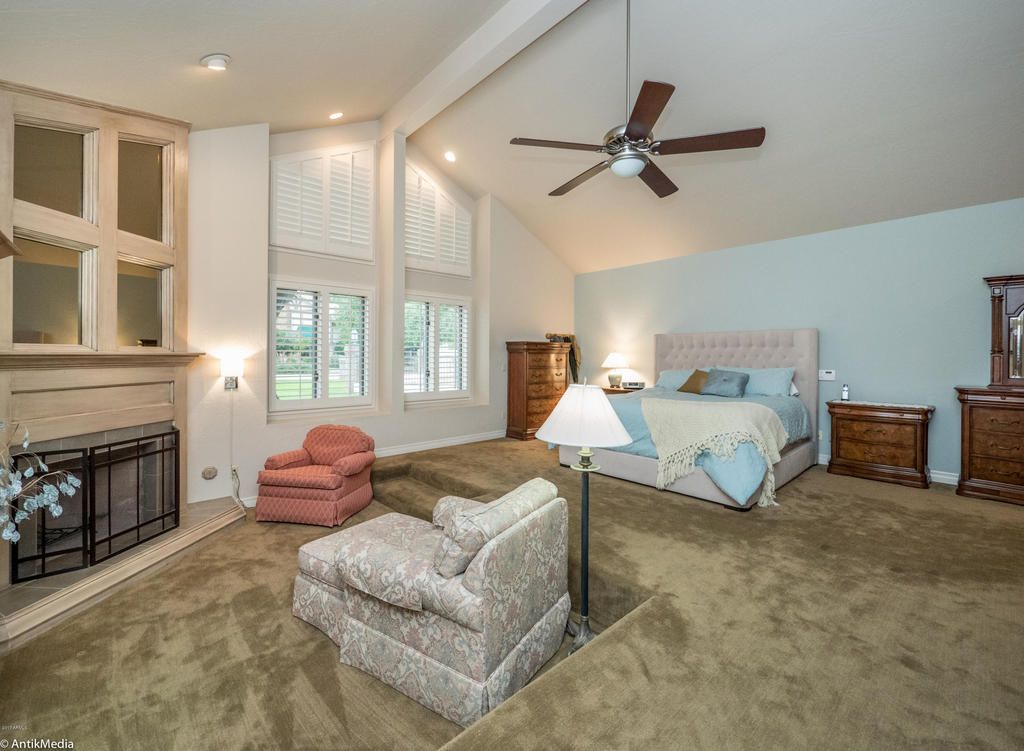 All bedrooms sport new windows and wood shutters. Aside from these updates, the spacious master bedroom comes with new oversized circulating fan and new tile over the fireplace hearth. On the other hand, the master closet has redesigned shelving and cedar siding added to the west wall.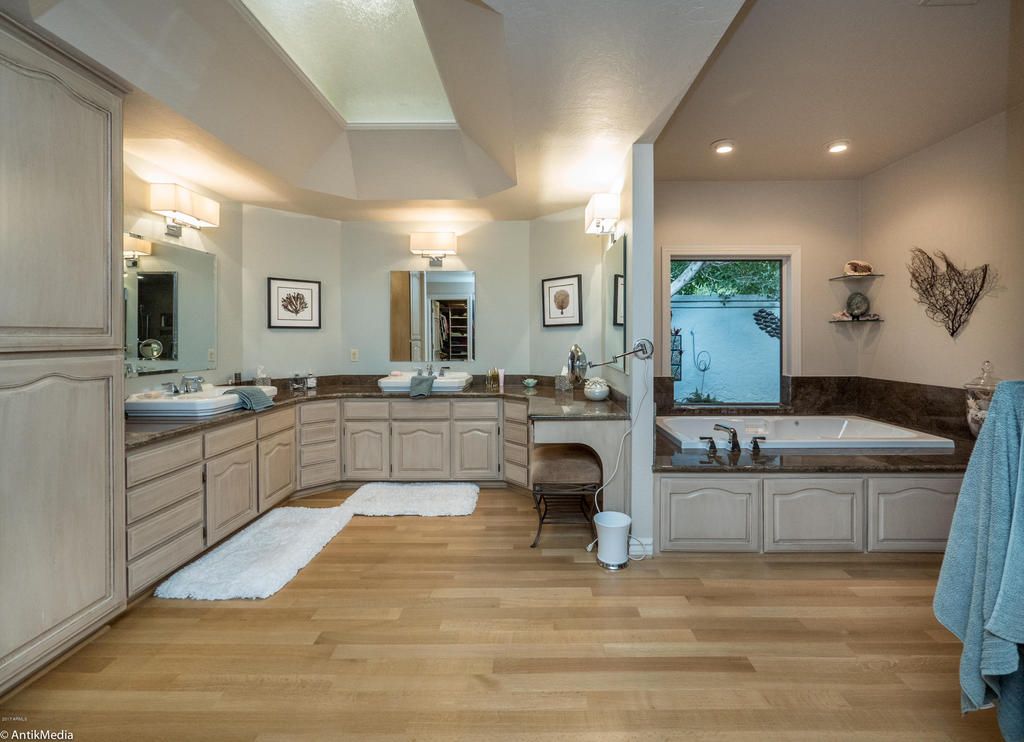 Enjoy a new Jacuzzi hot tub with plumbing, new faucets and cultured marble counters in the master bathroom. It also features two new raised sinks, faucets, custom mirrors, new lighting fixtures, south cabinet bank redesigned for seating ability and hot water recirculation beneath the sinks.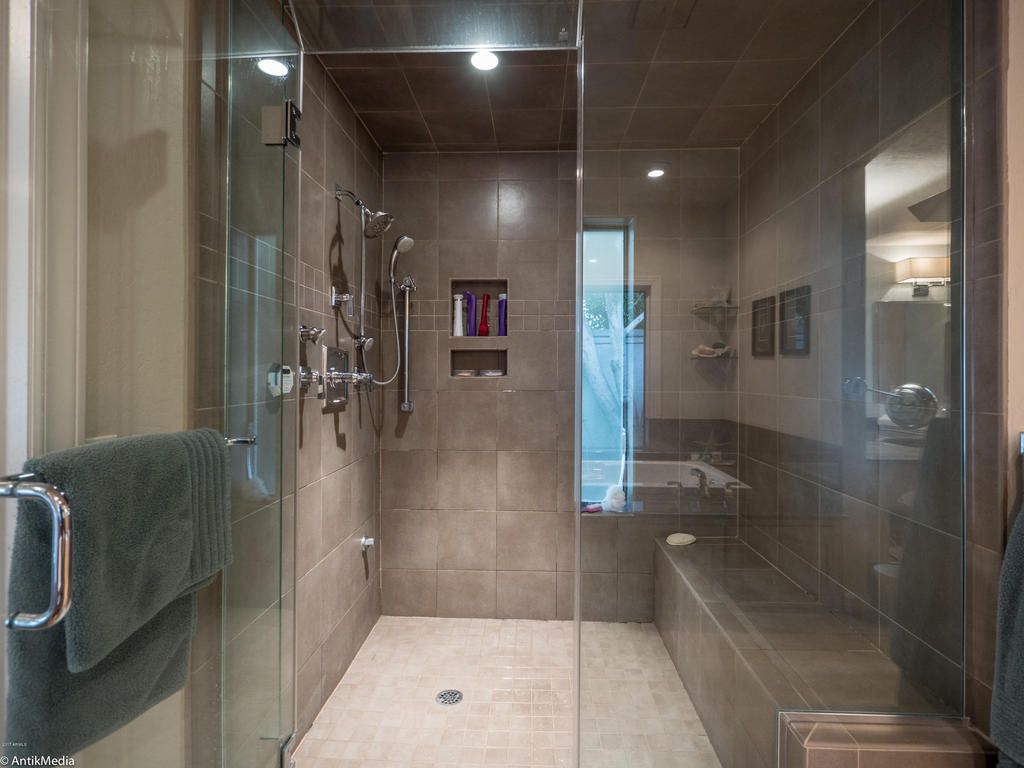 You're also getting a redesigned shower area with custom sized glass door and hinges, towel rack/handle, new tile, new floor pan, new sitting area, new light fixture and new double paned interior window. The shower area also happens to be right next to an exercise room with sauna.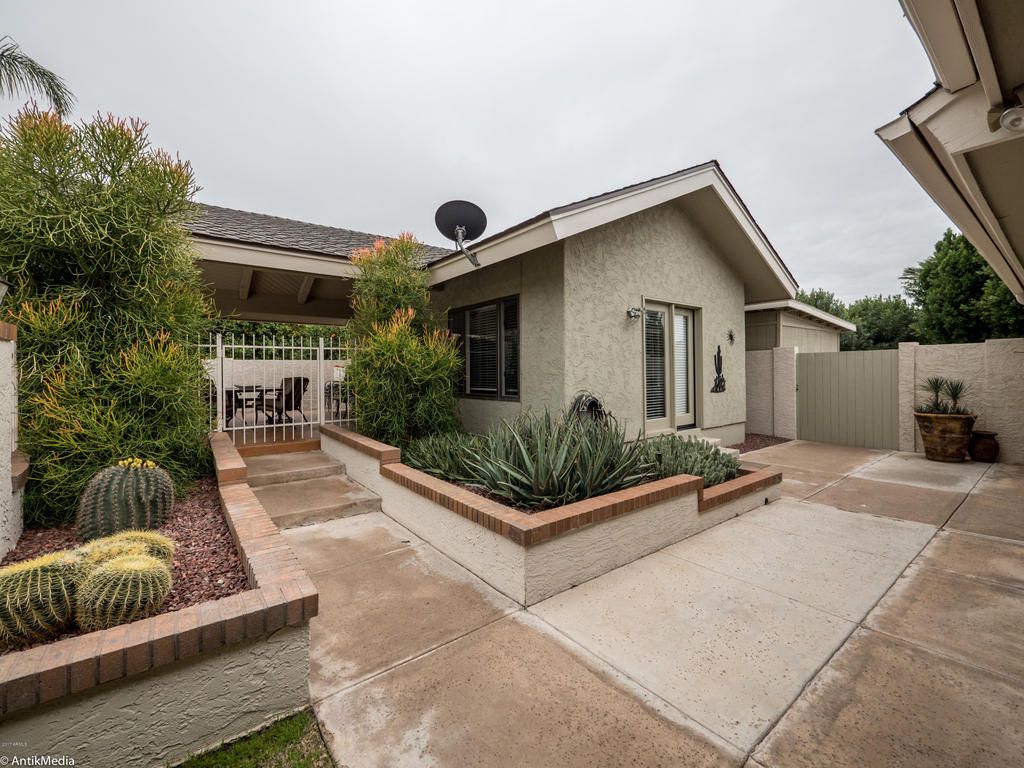 Remodeled in December 2016, the detached casita features new weather-stripping at both doors, new tile shower, pan & custom glass door, new toilet with new light fixture, new water heater, new sink, marble counter top, faucet and mirror with the A/C units replaced.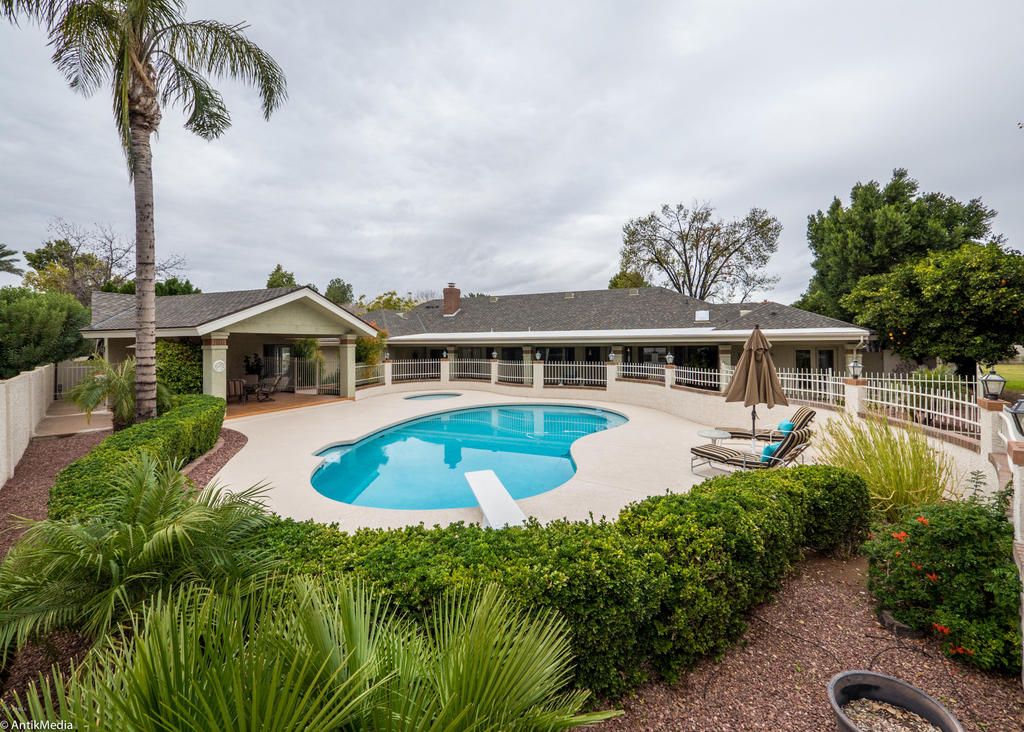 In March 2016, the wrought iron fence along the pool and cabana was painted with two coats. At the same time, a 50-year rated Tamko shingle roof was also installed with two coats of elastomeric urethane for the flat patio roof of this custom home for sale in El Camino Dolce.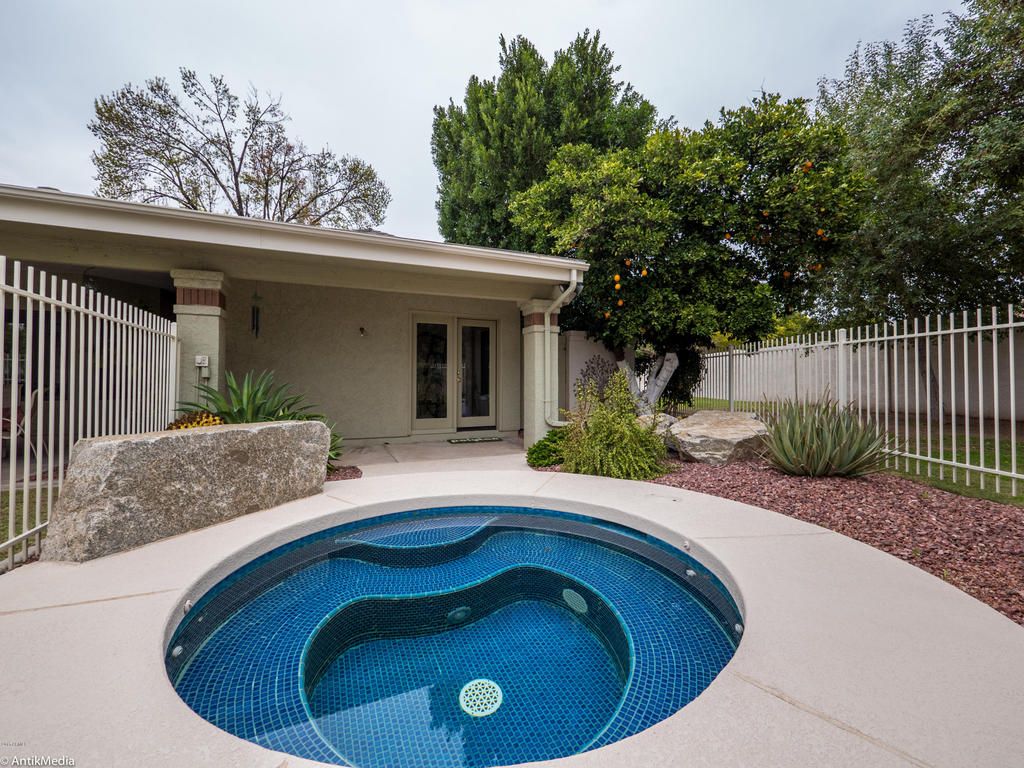 The wrought iron fence around the outside spa area was also replaced in March 2016 along with the repair and repainting of all stucco in this home for sale in the East Valley. The spa heat pump and valves were also replaced in 2016 and there are new full propane tanks ready for use.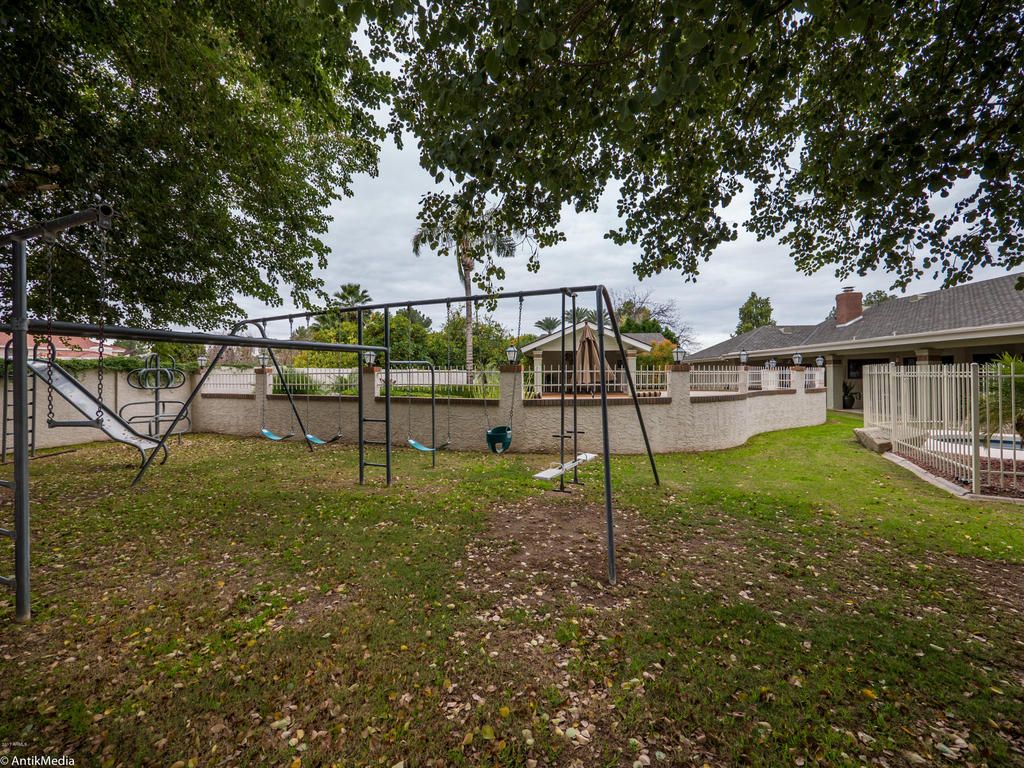 This El Camino Dolce property for sale also includes a commercial four piece playground equipment, five orange trees, a lemon tree, a pink grapefruit tree and Xeriscape. A John Deere 42-inch riding lawnmower is also included in the home selling price.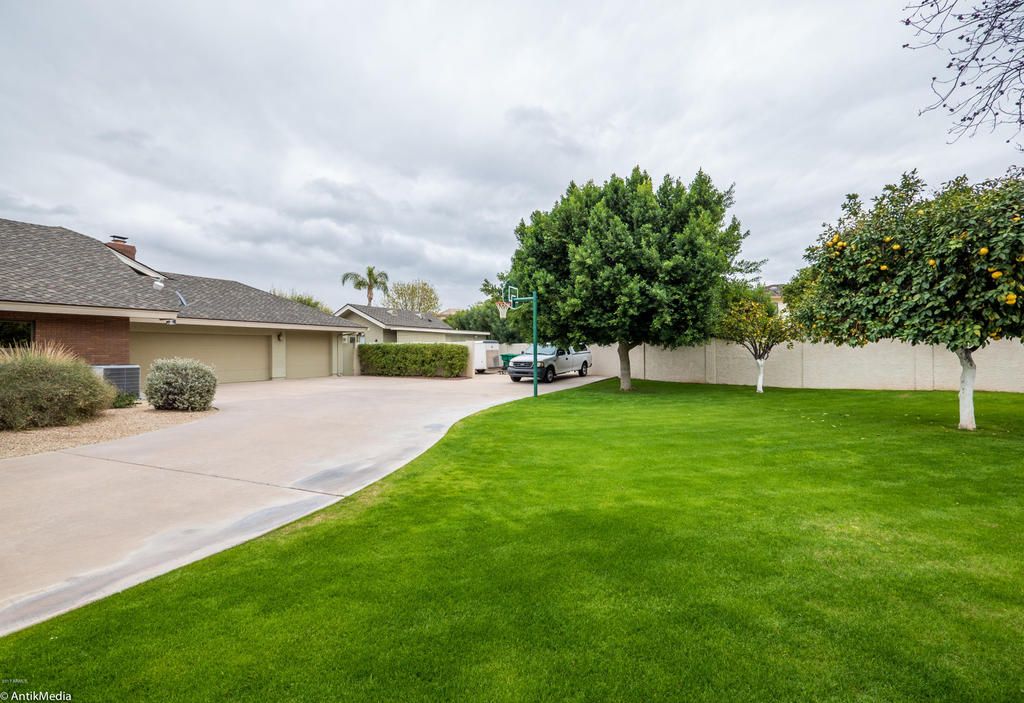 The garage that comes with this custom home for sale features new light fixtures, new epoxy garage floor surfacing, new vinyl garage wainscoting, all storage shelves, cabinets, drawers and custom maple wood work bench. Right outside in the driveway is a permanent glass basketball hoop.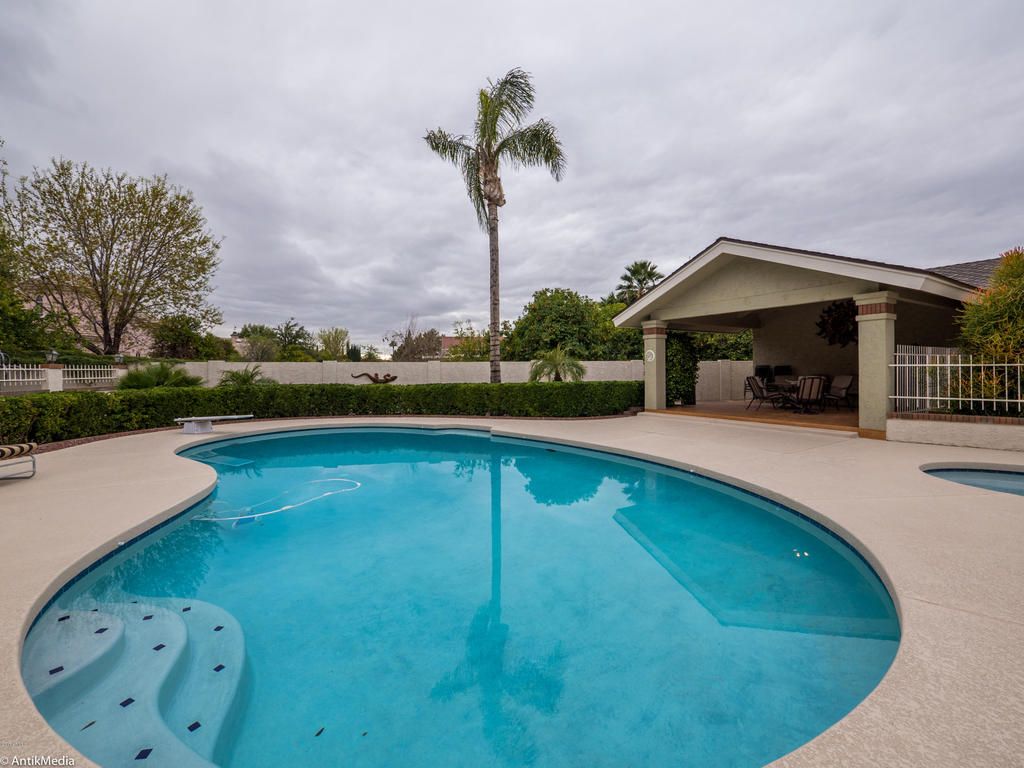 With so many updates and improvements, this Geitz custom home for sale on almost 1 acre cul-de-sac lot is like almost new- the perfect choice for your next home! As for the price? Well, believe it or not, we've updated it by $25,000 less- putting it an awesome listing price of $775,000!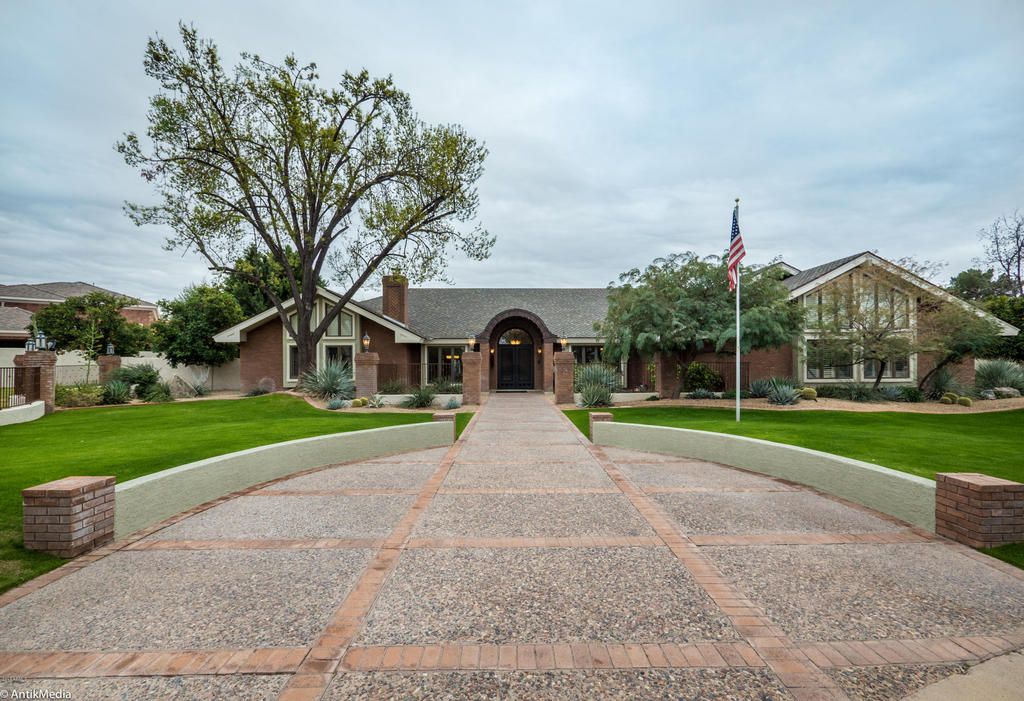 You might think it's crazy that this incredible custom home is getting a PRICE DROP with all the amazing amenities and upgrades it comes with. Well what would even be crazier is if you pass up on this great buyer opportunity to own this spectacular home for sale in El Camino Dolce- No HOA!
OPEN HOUSE:

4/08, Saturday 11:00 A.M. - 3:00 P.M.
OFFICIAL LISTING AGENT, SHANNA DAY
for any questions or more information:
480-415-7616
OPEN HOUSE For Mesa, AZ Custom Home On Cul-de-sac Lot - No HOA!