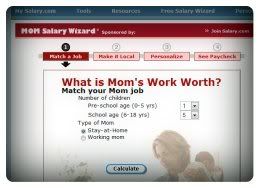 Salary.com has posted the
Mom's Salary Wizard
.
Punch in the quantities of children... and which age bracket.
Declare your status: "stay-at-home" or "working mom" and then select "calculate"
Voila! A mother's estimated salary in dollars.
Though it may be a marketing scheme to get you to their site I've often wondered how one could fully value a mom.
It's just not a "job" that is monetarily quantifiable. Is there a good job description for mother?
She's the one who spends every waking hour concerned for your welfare.
She's put her life on the line bringing you into the world... endured the pain- and still loves you beyond measure.
She doesn't track the overtime hours- that's just not in her business plan.
You can leave home; father children of your own- become a grandpa.
Still- she's your mother... she always will be.
You'll always be in her thoughts and she'll never give up on you.
To her you're the most handsome, beautiful, talented person ever.
I want to thank mothers everywhere- there's really no accurate price...
... any attempt would be an underestimate.