One of the biggest decisions for a family when they move in to an area is what the schools are like. Errol Hassell is located at 18100 SW Bany Road in Aloha, Oregon, and only had about 550 students enrolled in the 2007-2008 school year, and the school report card was pretty darn good. Click here to go to the Beaverton School Districts website and see for yourself.
Many weekends my family and I go to Errol Hassell's playground because the playground is fenced in and is really close to the 3 amazingly well kept baseball fields, this way my 4 year old can play on the equipment while I practice on one of the baseball diamonds with the older two.
Here are some pictures of the playground and fields. If you are looking to move in to the area, I suggest you stop off and talk to the principal and get to know the area.
To get a list of homes available in the Errol Hassell School Districts boundaries, feel free to call or e-mail me anytime or click here and I'll get them to you ASAP and help show you what a great community Aloha is.
Here is this week's featured home in the area and it is walking distance from Errol Hassell. Just click on the picture for the complete details on the home.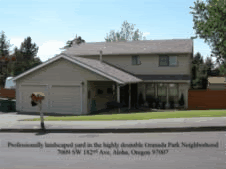 Todd Clark - broker
Kastings & Associates
Phone: (503)524-9494
Fax: (503)622-8739