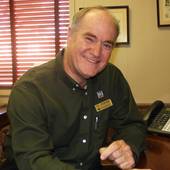 Real Estate Agent
Bill Saunders, Realtor®
www.BillSellsHotSprings.com
Hot Springs, AR

—

Meyers Realty
3399 Central Avenue
Hot Springs , AR 71913
---
Proven performance in a challenging market. No pressure, no pushing. Straight shooting.
Get to know Bill Saunders, Realtor®
  Here are some truths, and you can find more on my website if you click HERE. You can also go there if you want a no pressure place to browse through the listings currently active on the Hot Springs, Arkansas Board of Realtors® multilist...I DO NOT sell any info nor does my website spam you. It's a free service to anyone that wants it... and it is free from some of the fog of the internet big-box sites. 
Truth: around 80-90% of buyers begin their search on the internet.
Truth: MOST of those people are "just looking" and don't want to be "sold" or "pitched" to.
Truth: MOST of those people (once they are truly considering buying a home) honestly need help to wade through all the stats and goop that is out there.And "goop" and misdirection there certainly is. NOT all markets are seller markets, not all markets have a shortage of homes for sale (for instance). What you are reading about in the headlines today quite possibly does NOT pertain to your circumstances and the market you are interest in. PLEASE do not place faith in "auto valuation" or internet auto-clicks on your home's value. 
If you are thinking of buying and want some "non-virtual"help, from someone that stays on top of, and digs deeply into the residential market in Hot Springs Arkansas, that offers a NO PRESSURE environment (I didn't want pressure either when I was home shopping),  someone that will go through ALL the ACTIVE listings (not just his, or his agency's) with you. Someone that will be with you every step of the way through the process from looking to closing (and beyond if you need it), Contact me for a quick consult! There's NOT going to be a net thrown over you...no big iron door will close...no sales pitch or "smoke and mirrors"... just some straight talk about you, your goals, the market here in Hot Springs, and what WE need to do to move you toward those goals of either finding that home you have been looking for, or finding that buyer for the property you would like to sell.
Bill Saunders, Realtor® , Meyers Realty (in business since 1961),
Hot Springs, Arkansas, email realtorbillsaunders@gmail.com 
call or text me at 501-318-9611
Certifications
I obtained the National Realtor® GREEN certification. I obtained the N.A.R.® Accredited Buyers Representative Designation, and obtained the Sellers Representative Specialist Designation. I found the added coursework less than challenging, being that I already knew and practiced 95% of what was being taught due to experience and study on my own.
To me, the best certification is a testimonial from a past clients.There are lots of testimonials on my website, www.BillSellsHotSprings.com and also on zillow.com in my profile (click here) ...and they are from clients, not Aunt Mary Ann, lol.. Due to certain sites spamming their memberships, I concentrate on them putting up a testimonial in only one place.
Awards
Past awards are Bronze and Silver Arkansas Realtors® Association awards for excellence.
Skills
 28 years in property management and customer service.... if that isn't a skill in an industry that often lacks customer care, then I don't know what to put. 
Testimonials for Bill Saunders, Realtor®
About two years ago we wanted to start looking at properties in Hot Springs for a future move to this area. Even though Bill knew we would not be buying for a long period of time, he was willing to take time with us and show us the available places that met our criteria. He patiently cultivated our relationship - totally without pressure - until we were ready to make a purchase. He was very sensitive to our needs and wishes. We greatly appreciated his knowledge of the city's various neighborhoods. In the ensuing two years, Bill became more than our real estate agent - he is now our friend, and we would readily trust him to work with us again.

Bill Saunders is a true professional! You will not find a better real estate agent than Bill. My wife was in poor health and we needed to move closer to family for support. Our daughters contacted Bill and, in about six weeks, we closed on the sale of our house. I was caring for my wife and had no time to spend worrying about the details of the sale and closing process. That's when I realized how lucky we were to be working with Bill. He did not let a single detail fall through the cracks. I highly recommend Bill. I am in no way exaggerating Bill's performance. He is that good. Thank you, Bill.

Bill was very knowledgable and flexible in everything that we did. With having already looked at around 60 houses before we found Bill, he was very helpful and enthusiastic to help us find our first home. With our busy schedule, and his, he found the time to show us homes. The one we bought we got lost trying to find, but with all of our determination, the next day we found it and fell in love. Bill was a joy to work with and we would highly reccomend him to anyone. Very honest and trustworthy man.

My wife and I cold called Bill back in the spring time considering a move to Hot Springs, Bill was very informative and emailed us several listings after finding out what we were looking for. Even though we were just looking he took the time and effort to show us several houses and treat us just like we were actively looking to purchase at that moment. Our house sold quicker than we had planned and a couple months later we were on the phone with Bill needing a house. He found several new listings to show us, as well as, a re-look at a few of the previous homes. Working with Bill was very easy, he communicates well and is quick to get back with you if needed, he truely made the whole process pain free and I will HIGHLY recommend him to anyone looking for a house in this area. I can say that Bill has become a friend after working with him.
Introducing a fresh new look for your Profile.
Click the 'Edit Profile' button below to enter 'Edit Mode' and continue the tour.