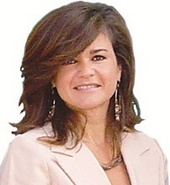 NMLS# 445097
Mortgage and Lending
Mimi G. Barnes
Asst. V.P./Loan Officer
Bourbonnais, IL

—

Peoples Bank of Kankakee County
I'm the Mortgage Lender that goes the extra mile for my customers. I will fit you with the best product that best suits your current situation. You can count on me to be upfront & honest!
Get to know Mimi G. Barnes
              I offer services in Spanish
I'm a full-time Mortgage Specialist, with a four year real estate background. Having a real estate background gives me an advantgage because I know both aspects of the deal. I take pride in the quality of service I provide my customer's. My ultimate goal is to end up with a 100%  satisfied customer satisfied.
Mimi G. Barnes's Blog Posts
Certifications
FHA ~ VA ~  USDA RURAL HOUSING ~ CONVENTIONAL  
Understanding the loan process:
Find out how much you can borrow Choose a loan that's right for you Apply for the loan-during this process do not apply for any new credit or make any large purchases, this will effect your ratios therefore you might no longer qualify for the loan. Begin the loan process Close your loan Ask questions throughout the process to make sure you fully understand all aspects.
 ~Understanding your credit~
This is one of the leading things that lenders consider when reviewing an application. Credit reporting companies use models that take into account an individuals history to generate a credit score.  A credit score is nothing more than a numerical designation that gives an indication of the credit worthiness or credit risk of an individual. The most commonly used credit scoring model is the FICO model, which was named after the company that developed the model , Fair Issac and Company. The resulting credit score is referred as a FICO. Every individual has three FICO scores, one from each of the reporting companies: Experian, TransUnion and Equifax. Lenders typically use the middle score for evaluation a application.  Also used NonTraditional credit, this is credit attained by using bills such as utilities, insurance or even cell phones. You must show a 12 month's of on time payment history. You should check your credit at least once a year to check for any inconsistencies. You call each of the reporting companies to dispute any inconsistencies on your credit report, their number's are listed on the credit report.
 ~What is taken into account in a Credit Score~
~Fico Scores range from 300 to 850, with 850 being the best possible Fico score~
~Rate Your Credit~
Excellent  *Most favorable credit history *No late payments for credit cards / auto loans *No late mortgage payments *Significant discretionary income Very Good  *Very favorable credit history *1 late payment for credit cards / auto loans *No late mortgage payments *Ample Discretionary Income Good  *favorable credit history *2 late payments for credit cards / auto loans *No late mortgage payments *Income more then covers your debt payment Moderate  *Average credit history *3 late payments for credit cards / auto loans *1 or more late mortgage payments *Doing well in covering your debt payments Fair  *Okay credit history *4 late payments for credit cards / auto loans *2 or more late mortgage payments *Need to reduce your overall debt payments Weak  *Some credit history *5 late payments for credit cards / auto loans *3 or more late mortgage payments *Debt payment absorbs too much income Very Weak  *Limited credit history *6 or more late payments for credit cards / auto loans *4 or more late mortgage payments *Need aggressive debt reduction strategy *Bankruptcy within the last 7 years
  ~3 STEPS TO BOOST YOUR CREDIT IF YOUR SCORE IS 660 OR BELOW~
PAY  EVERY BILL ON TIME PAY  DOWN YOUR MAXED OUT CREDIT CARDS FIRST DO NOT CANCEL ANY CREDIT CARDS- Remember one-third of your score is based on how much of the credit available to you, you actually are using.
 ~USING CREDIT CARDS TO IMPROVE CREDIT SCORE~
PAY ON TIME. USE YOUR CARD EVERY SIX MONTHS TO KEEP IT ACTIVE. KEEP CREDIT CARD ACCOUNTS OPEN (UNLESS PAYING AN ANNUAL FEE) KEEP THE RATIO OF CREDIT AVAILABLE TO CREDIT USED LOW. AVOID NEW ACCOUNTS (SHORT-TERM) THE NEGATIVE EFFECT OF OPENING A NEW ACCOUNT LAST LESS THAN ONE YEAR. PAYING OFF OR DOWN CREDIT CARDS IMPROVES THE SCORE MORE THAN PAYING OFF OTHER LOANS ~i.e. installments.  Equifax (800) 685-1111 Web, www.equifax.com Experian (888) EXPERIAN (888-397-3742) Web, www.experian.com Trans Union (800) 888-4213 Web,www.transunion.com
All loans are subject to credit approval and property appraisal. Programs/products are subject to change without notice. Preapplication/prequalification is not a commitment to lend, a condition of loan approval or a application for credit.
READ ABOUT CREDIT REPAIR SCAMS:  http://www.ftc.gov/bcp/edu/pubs/consumer/credit/cre13.shtm
 ~Down Payment Assistance Programs Available ~
       Call me today for more information... 
         ~Ten Mistakes To Avoid when Buying A Home~
Do Not Buy A Home Without Professional Inspections.  It is highly recommended that you get a property inspection. This way you will know what you are buying and prevent unnecessary future expenses. Do Not Wait To Get Homeowners Insurance.  Most people make the mistake of waiting until just before closing to have insurance. By calling around sooner you can have time to find the best insurance for you. Do Not Allow Any Negative Bank Drafts or Balances.  Because you may be asked to supply recent bank statements please check to make sure all payments have cleared and your accounts maintain a positive balance. Do Not Make Large Deposits or Transfer Funds.  It is best to leave your money right where it is. Moving your money or making large deposits cause confusion with the verification process and you will be asked to explain any large deposits into your account over the last THREE months.  Do Not Make Late Payments.  Due to the probability of having to re-verify your credit histoy prior to closing, you should always pay all bills when due, without exception. Do Not Increase Your Credit Balances. Avoid increasing the balance on your credit cards because this will increase your minimum payment due and may have a negative impact on your overall credit score. Do Not Change Jobs.  Changing jobs before or during the loan process can create a real problem in qualifying you for the loan. Do Not Make Any Large Purchases.  A large purchase can affect the amount of home you qualify for and, during the loan process itself make it extremely difficult to get your loan approved. Do Not Pay Off Your Bills.  Your loan officer will advise you if necessary to pay bills to help you qualify for a loan. They will also show you the best way to pay off bills to make sure you have the evidence needed to verify the bill has been paid in full. Do Not Forget To Ask Questions.  You must make sure you feel absolutely comfortable and understand the process.
Sites to visit:
http://www.freddiemac.com/calculators/ 
http://www.fha.gov/
http://http://www.freddiemac.com/corporate/buyown/english/preparing/right_for_you/
 Get your free credit report today at www.annualcreditreport.com  
 ~Want to apply for a loan go to WWW.MIMIBARNES.COM ~
What's the difference between Pre-Quailified and Pre-Approved and why it's so important to get pre approved before starting your home shopping adventure?
Many people are surprised to learn that the best time to look for a mortgage is BEFORE you look for a house.  Being pre-approved shows the seller you have taken the necessary steps and are committed therefore the seller will most likely take your offer more seriously.  Also by talking with a lender before starting your home search gives you ample time to pull together records you will need to get a mortgage when you finally find the home you want to purchase.
~Pre-qualified~
This buyer has met with a mortgage broker (or lender) and discussed their situation. The buyer has informed the broker regarding their income, expenses, assets and liabilities. The broker may also have seen their credit report. The buyer provided you with a letter from the broker stating an opinion of what the buyer can afford. ~Pre-approved~This buyer has provided a broker written evidence of income, expenses, assets, liabilities and credit. All information has been verified by a lender. As a result, much of the paperwork for this buyer's loan has been completed. This buyer will probably be able to close quickly. They provide you with a letter (pre-approval certificate) from the lender. You're as certain as possible that this buyer can close.
Frequently asked questions:
What is PMI- Private Mortgage Insurance which is normally required when you purchase a home with less than 20% down payment. Mortgage insurance is a type of guarantee that helps protect the lender against the costs of foreclosure. There are other ways to avoid paying PMI.
Should I Refinance? 
      The most common reason to refinance is to save money, this can be achieved by:
Obtaining a lower interest rate Reducing the term of the loan from a 30 year to a 15 year Or by converting a adjustable rate to a fixed rate
 Definition: Quitclaim deeds transfer or "quit" any interest in real property. The grantor may not be in title at all, so the grantee cannot assume that the grantor has any real interest to convey. However, if the grantor were, say, married to the owner of the property, signing and recording a quitclaim deed in favor of the spouse would transfer any interest the grantor may have in the property to the spouse. This does not release you from the liability of the debt only from ownership.
                                     I am always just a call, text, click or email away!
Introducing a fresh new look for your Profile.
Click the 'Edit Profile' button below to enter 'Edit Mode' and continue the tour.