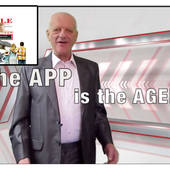 Education & Training
Robert Harrington
How to Buy and Sell Homes by Phones
Victoria, BC

—

Harrington Homes Realty Inc
Competition for the Realtor® Brand monopoly is NOW! Take a Smartphone Camscanner App, add "Point & Click" Sales Contracts, use the Uber Taxi Business model & U R DONE! List everywhere! MLS™ too
Get to know Robert Harrington
TOOLS NEEDED to Start your own Real Estate Business TODAY!
1/ SmartPhone with CanScan document app

2/Free "Point & Click" Real Estate Contracts, Point to the type of property you want to buy or sell, Click open the contract, fill in your offer or ask price and a few details and "POST" your offer online.

3/ British inspired "Estate Agency" Real Estate model that allows anyone to earn Flat Fees and commissions as a FREE AGENT, complete with ESTATE AGENT LICENSE which gives "Estate Agents" more rights than Realtor® brand agents have and Estate Agents can give the same professional advice as Realtor® Brand agents can give.

4/ Uber Taxi Business Plan that adapts perfectly to the ESTATE AGENCY brand of online Real Estate with Mere Posting acting as a "Gateway" app like Uber "Ride Sharing" that allows ESTATE AGENTS to list across ALL social media and Listing sites including Realtor.com & Realtor.ca sites and list on these sites for thousands less than Realtor® brand agents can
IS our FreeRealEstateBusiness.com site and ESTATE AGENT brand of Real Estate Agency the same as UBER TAXI?
Published information about the wildly successful Uber Taxi Business Model shows how Uber Taxi replaces high fare traditional taxi drivers who are burdened with $400,000 to a Million Dollars Taxi License fees with drivers who can operate with their own vehicle license and UBER'S  RIDE SHARING APP, and give a far superior taxi service to the public at a lower price. 
YES! EXACTLY! 
Our single user ESTATE AGENT licenses are FREE, and Business Licenses are available every business day for about $100.00 year and our "LIST SHARING" program allows anyone to list on the Realtor® brand and MLS™ Listing sites for a Commission-Free home selling. According to the Realtor® brand's own 18 month, 1100 person study and conclusion, this new real estate business model will take over 80% of the traditional Realtor® Brand Agency Clients by 2021.
Robert Harrington's Blog Posts
|
Real Estate Sales and Marketing
–

7 months ago
Real Estate Market Trends
–

7 months ago
Real Estate General Information
–

7 months ago
Real Estate Industry
–

7 months ago
Real Estate General Information
–

7 months ago
Real Estate Market Trends
–

7 months ago
Featured Video
StarDate 2021! FOUND! THe Lost Video from the original attack of the Smartphones launched by Rebel Realtor® Brand agents at the National Association of Realtors® Death Star after the associations DEATH STAR Rays sucked up MORE FEES out of their Commissions.
Certifications
Oh yes..we all get the meaningless awards and recognition that keeps Realtor® Brand agents  paying most of their commissions to the Realtor® Brand owned and operated offices, Boards and Councils so as to prop up out of date dysfunctional top down real estate instititions whose only loyalty is to themselves and not to Realtor® Brand agents or their clients.
Awards
Yes it has been a few years now since creating my first Virtual Real Estate Agent so I could work from my laptop and help buyers and sellers Buy & Sell online.
Top Office 2010 
Medallion Winner 2010, 2011
My other awards were most hearings and fines from the Real Estate council for inventing Virtual agents which replaced real agents and did not need to pay fees.
Boy that made them very afraid so they changed the rules to stop anyone from using Virtual Agents and made me the Winner of MOST Real Estate Council Audits, Hearings and Complaints and fines paid to Real Estate Boards & Councils from 2011 to 2015.
Conclusion: you do not own or control your own Brokerage. you operate at the whim of the Realtor® Brand Monopoly
Skills
Movie making, Movie editing, Sales, photography, negotiating, pricing, creating new niche markets.
Angering the Dysfunctional BC Real Estate Council 
And not to forget angering the Equally Disfunctional Fraser Valley Real Estate Board.
Testimonials for Robert Harrington
Robert Harrington

02/15/2016

Video testimonials direct from the Realtor® brand owned and operated Real Estate Council.

http://freerealestatebusiness.com/lessons/lol-for-council-clowns/chapter/1

Introducing a fresh new look for your Profile.
Click the 'Edit Profile' button below to enter 'Edit Mode' and continue the tour.