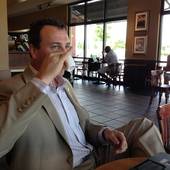 330104
Real Estate Agent
Ron Corbin
McDonough, GA

—

Solid Source Realty GA LLC
I take my profession very seriously. I strive to be the very best Real Estate Broker I can be and expect the same from each of my team members.
Get to know Ron Corbin
Hi, thanks for checking out my profile. Connecting with folks and helping them realize their dreams through real estate is why I'm here.
It's what I love to do. 
How Can I Help You Today?
In 2006 my family decided to sell our local family business and for 2 years, I took some time off to hang out with my kids. 
In 2008, a friend suggested that I become a real estate agent. It made since...for years I had been a resource for family and friends whenever they were considering a real estate purchase or sale. 
I figured, "Heck, if I'm already walking through the properties and offering my 2 cents...I might as well get paid for it :->
The problem was...it was 2008; the beginning of the worst real estate crash in my adult life. How could I expect to survive...let alone make a decent living in that kind of market?
The answer - Do what I what my parents taught me in our family business...Surround Myself With People Who Want Me to Succeed...Work Hard...Be Nice...
Find People Who Need My Help...Take Care of Them...Let Them Know What's Going On...Don't Screw Up, but if I Do, Admit It, Fix It, and Learn Not to Do it Again.
So, I jumped in. With both feet. Full time, right from the start. I figured that if I could survive in a market when experienced agents were fleeing by the thousands; 
I would kick butt when the market turned around. That's exactly what's happening now. My business is taking off.
My reviews are a testament to the culture of the business I am building. Check them out.
I'm no Mega-Agent. I do not sell hundereds of homes each year. Do not want to. It's not possible to do that kind of volume and still make people feel like you actually care about what happens to their highest-valued asset. I want to serve enough of the right kind of clients who can appreciate the level of personal service my team delivers. The majority of my business comes through referrals from past clients and business relationships. That's what I build - relationships - not just a clientbase. For example, within the past 2 and a half years, I have helped one family buy and sell 10 homes! They are not investors. These transactions were the purchase and sale of 10 personal homes - for one family! Parents, Kids, Grandparents, 3 generations of one family. You can bet your bottom dollar that I would not have gotten past the first sale if my team and I had not understood the market and the real estate industry, communicated every detail of the transactions to all parties effectively and completely so everyone felt comfortable moving forward, negotiated some kick-a$$ deals for our clients, conducted ourselves ethically and professionally, and at times displayed a level of creativity and determination to do what needed to be done to get the deal to the closing table that bordered on heroic :->
I take my profession very seriously. I strive to be the very best Real Estate Broker I can be and expect the same from each of my team members. Let's connect and see if it makes sense to work together. I look forward to meeting you and taking the first steps to building a long and productive relationship. - Cheers
Introducing a fresh new look for your Profile.
Click the 'Edit Profile' button below to enter 'Edit Mode' and continue the tour.