Room Solutions Staging is based in Portland, Oregon, and offers a varied menu of professional home staging services throughout the Portland Metro area. Our proven staging techniques will help reduce your property's market time and maximize your equity.
Staging that sells Portland homes
~ 2014 Top 10 Professional Stager of the Year in the U.S. ~
~ 2013 Top 10 Professional Stager of the Year in the U.S. ~
~ 2012 Professional Stager of the Year (Western U.S.) ~

~ 2016 National RESA Board Member of the Year ~
~ 2015 National RESA Board Member of the Year ~ 
~2014 National RESA Board Member of the Year ~ 
Awarded by the Real Estate Staging Association (RESA)

~ Best of Houzz 2016 and 2015 Awards for Customer Service ~
As Featured in Local and National Media
Local and national media alike turn to Room Solutions Staging when reporting on how home staging helps Portland-area sellers in today's challenging real estate market. Benefit from our expertise on your next home staging project by contacting us.
Our home staging and design work has been featured in multiple articles and TV ~ please see our website for details
When HGTV needed a home staging and design expert in the Portland OR area, they selected Maureen Bray of Room Solutions Staging as a Featured Designer for their popular show My First Place. 
Home Staging in Portland Oregon Blog
Check out our Home Staging in Portland Oregon Blog featuring the latest home staging tips, trends, and examples of our home staging projects in the Portland area.
Our Mission Statement
Room Solutions Staging is committed to providing our clients with the finest home staging and re-design services available in the greater Portland area.
We promise to offer personalized services tailored to your property's individual needs and to showcase your home to its best advantage, whether you are selling it or living in it.
We are dedicated to maximizing the profit potential of our clients' properties and reducing market time.
We pledge to deliver superior service at competitive prices and to perform our work with honesty, integrity, and the utmost respect for your property.
Statistics Prove Home Staging WORKS in Portland
Through Julu 31, 2016, Room Solutions' staging expertise helped sell $29 Million of residential property in the Portland metro area. Our staged properties had average Days on Market time of just 8 days, compared to the Portland metro average Days on Market time of 40 days YTD in 2016. During this time, the homes that we've staged and provided home staging consultations for achieved an average 102.5% of list price. 
Don't let your property linger on the market when a small investment in staging can help it sell faster and for maximum value.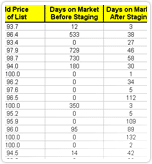 Why take the risk of paying carrying costs each month for a mortgage, property taxes, HOA dues, and utilities -- not to mention the inevitable price reductions when your home doesn't sell? A staged home can encourage more viewings, faster offers and a pending sale. Using our professional home staging services can save you time and money, whether you need a cost-effective Staging Consultation or Staging of an Occupied or a Vacant home.
Join the many homeowners, Realtors, investors, builders and banks who rave about our service ~ Contact us for a free home staging proposal for your property.
Staging Your Home Is A Smart Investment
The investment in staging is always less than a price reduction. Regardless of market fluctuations, staging will give your home an edge over competing properties. It's the all-important "packaging" that helps a home sell faster and for maximum profit.
In addition, your investment in staging may also be tax deductible; refer to IRS Publication 523 and your professional tax advisor for more information on deducting this marketing expense.
Our Home Staging Services in the Portland OR Area
Room Solutions Staging offers a variety of professional services to homeowners, investors, and realtors; we're flexible and want to work within your time frame and budget. If you have a service request that isn't listed here, just contact us to let us know how we can help you.
Home Staging Services Offered To Homeowners, and Realtors
Walk through Verbal Consultation (Occupied Home): This very popular service is geared towards the homeowner or Realtor, usually for a home that will be Occupied while it's on the market. We walk through the property with you while you take notes of our recommendations for easy cosmetic repairs that will give you the best Return on Investment, light fixture replacements, interior and exterior paint colors, how to create focal points, the best furniture placement to create a good traffic flow, deep cleaning tips, editing your collections and photos, curb appeal and landscaping enhancements, etc. We'll roll up our sleeves and do some hands-on staging while we're there, to make the most of our time together.  Afterwards, we'll review with you the "Top 10" things that we recommend be completed in your home before it goes on the market. We also provide you with written tips on preparing for the Open House, how to keep your home ready for showings. Fee for this service is $220 for up to 2 hours of time; $20 for each additional 1/4 hr. If distance is greater than 20 miles from SW Portland, an additional charge may apply.
Home Staging Service for Occupied Homes: If the home is Occupied while on the market, we will work with and edit the seller's furnishings to create an inviting, cohesive look to the décor. If additional items are needed, we'll suggest where you can buy them (we can also do the shopping for you if needed, for an additional fee). The pricing of this service depends on the size of the property, the number of rooms staged and whether accessories needed. Because every project is unique, we're happy to provide a no-obligation staging proposal for your property.
Home Staging Service for Vacant Homes:   Staging a vacant home can ensure that it's appealing to your target buyer. We usually recommend staging the main "impact" rooms of the home, but can also provide "light" staging if required by the budget and situation. The pricing of this service depends on the size of the property and the number of rooms staged. Because every project is unique, we're happy to provide a no-obligation staging proposal for your property.
Electronic Consultation (E-Staging): If your property is located outside our service area (anywhere in the world) we can provide a detailed Consultation Report for your home. Using photos and room dimensions that you provide to us by email, we will advise which furniture to keep, which to remove, how to showcase the space for maximum appeal, as well as cosmetic improvements to do. The cost of this service depends on how many rooms are included. Please contact us for more information -- we'd love to help you whether you're planning to sell your home, or just want to fall in love with it again!
Full Day or Half Day Home Makeover (ReStyling) Projects:  If you're not planning to sell your home but you'd like a fresh look in your home, our home makeover service may be just what you need. This "ReStyling" service is less expensive than hiring a traditional interior decorator and very effective! We can make your home warm and inviting, and can also suggest where to buy the best accessories (or we can do the shopping for you). A no-obligation quotation is gladly provided.
Paint Color Consultation

: Need help selecting just the right interior or exterior paint colors?   Whether you're selling your property or staying in it, we can help you find just the right colors that work with the existing elements – billed @ $100/hour.

Gift Certificates

: Room Solutions Staging offers custom-designed Gift Certificates for Home Staging Consultations, Re-design Service, or Home Makeovers ~ in any amount. Surprise your friends, family or business clients and associates with a wonderful gift that will be much appreciated by the recipient!
Ready to make your home (or office) the talk of the town? Contact us for more information about any of the services listed above.
Home Staging Services Offered To Realtors
Do you have a listing that could benefit from the services of a professional home stager? We provide cost-effective Verbal Staging Consultations that can ensure your listing is ready for photos. Whatever the budget, timing or obstacles, we're sure to have a solution to make your listings irresistible to buyers.  Special pricing for our Realtor partners!
If you'd like professional-looking flyers to include in your listing presentations to clients, just let us know – we'll custom-design one just for you. 
Benefits of staging your listings with Room Solutions Staging:
Our expert staging techniques sell homes faster – please check out our local staging statistics here.
We know how to tactfully and diplomatically advise your clients about the changes and improvements necessary to sell their home.
Our staging service will boost interest in a home that's been lingering on the market for too long.
Including our professional home staging flyers in your marketing materials will position you as a valuable source of advice and resources to your clients.
Custom-designed Gift Certificates are available for you to give to your clients – for staging consultations at their present home or at their new one; occupied or vacant staging services that you wish to provide them, or any of our other services. Include Gift Certificates in your listing presentations for your clients who decide to work with you; this way you'll be confident that their home will be presented looking its best, and one that will likely sell faster.