Redtomatoes Mobile Notary & Apostille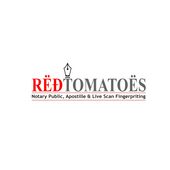 Services for Real Estate Pros
Redtomatoes Mobile Notary & Apostille
Oakland, CA

—

Traveling Notary Oakland-Notary Berkeley-Notary Alameda
Oakland Mobile Notary, Apostille and P3Digitix Live Scan Fingerprinting in Oakland, Notary Berkeley, San Francisco CA-Bay area. 24 Hours Notary Oakland Notary Public. Please visit www.redtomatoes.org
Get to know Redtomatoes Mobile Notary & Apostille
Redtomatoes Mobile Notary & Apostille offers 24 x 7 Notary Signing Service. Commissioned, Bonded  and   Insured  to  perform  Notarial  Services  in   the   State   of   California. Certified  and  specialize  in  Signing  Loan  Documents  and  all  or  any   legal  docs  that   require  signing  services. Providing  Mobile  services  to  Oakland / San Francisco   Bay  Area  and  as  a Mobile  Notary  service   we proudly  extend our services to cities of  Alameda,  Berkeley,   Emeryville,  El.  Cerrito,  Albany,  Kensington,  Piedmont,  Montclair,   Lafayette,  Orinda,   Richmond, Hercules,  Pinole,  San  Lorenzo,  San  Leandro,  Castro  Valley,  Hayward, Fremont,  Union City, San Jose, and  San Francisco  and more, basically covering  all of Bay Area.
Serving the needs of all Business:
Individuals Private & Government Offices  Mortgage Lenders Brokers Escrow Companies Title Companies Attorneys and Law Firms Security & Financial Co.
Our Service is  not  limited to  General Notary  signing but  is  extended  to   various  professions i.e, Law Offices, CPA's, Real Estate, Medical, Title & Escrows Co.,  Banks,  Security firms, Employment offices, Insurance co.,Business Big & Small, General Community  are  few to name.

We provide our  clients  with  same  day appointment  and  Mobile Service for  their convenience.  Travel  to  home or  office to  Notarize all important documents.

Prompt, Courteous, Reliable, Efficient  Service with  Fair Competitive  Rates.I  provide full-service  offering  professional Notary Signing Agent services for everyday legal needs.
We   provide our Certified loan Signings services  for  major  national  and   regional  mortgage  lenders   and   Title
Insurance companies. We strive to  be efficient and high standards  of  quality, integrity  and  professional  service.
We  go for high excellence rating  by  each  and  every  customer.Our   typical  client  is  title  companies,   lenders, escrow companies and  others   including  time  share  companies.   We   Keep  updating business  processes  to  decrease errors,  improve  communication  between  all   parties  and   provide  exceptional  service.  We  get   the borrower's initial  Loan   Application   and   Documents   signed   and collect   any    required   income,  insurance  or   other documentation required to get the loan in process. Call  US  with   your  special  Signing  needs. We  will work with  you  to  develop the procedures   and  processes  necessary  to get   your  loans  not   only  signed, but signedpromptly, ccurately  and   professionally.   Our   Loan    signers   will meet   with   the   borrower   at    place   that  is  convenient to them. Appointments can  be Scheduled   by  the  Signers.  Just   inform    us and   WE TAKE CARE  of   the  rest. We  are capable of receiving your docs  by  fax  or  email .Documents  are  picked up and delivered in  a timely manner. Service is fast, reliable and available 24/7.
We aslo Provide Certified  Ink Fingerprinting service  at  our  Oakland  Location office. We  are
Licenced   and   Authorized  by  the  Department  of   justice  (DOJ).Our  Certified  Fingerprint   Technician
can  take  fingerprint   impressions  in  the  State of  California.  We   provide   black  ink   rolled   fingerprints
service  on  FBI  FD 258 -Cards and SF 97 Cards . In  office  Ink fingerprinting  services  at  our Oakland Location or Mobile Services  to  Alameda, Emeryville, Berkeley, El.cerrito, Albany,  Richmond, San Leandro,
Hayward, Castro valley,Fremont, Concord, Orinda,Marin, San Rafael & more. Mobile Coverage to Bay area
Cities & San Francisco Area.Please see Coverage Area
REDTOMATOES MOBILE NOTARY & APOSTILLE & FINGERPRINTING SERVES ALL BAY AREA CITIES.
Certifications
      WE SPECIALIZE IN NOTARIZING Adoption Documents Affidavits  / Affirmations / Acknowledgements  Apostille Certification  Consent Letter for Minor Travel  Domestic Partnership Document  Deeds  / DMV online Tests  Financial Docs / Employment Verification (Form I-9)  Immigration Docs  Loans Docs  Mortgages  Medical Docs  Overseas Document requring Notary  Passport for Minor  Power of Attorney -General - Health   Real Estate Docs   Time Share   Wills & Trusts   Any Document That needs a Notary Witness
LIVE SCAN and INK FINGERPRINTS ROLLING FOR :
  Adoption Fingerprinting   Background check Fingerprinting   Criminal record Fingerprinting   Construction job Fingerprinting   Employment purpose Fingerprinting   Education Fingerprinting   Financial Institutions Fingerprinting   Insurance Fingerprinting   IRS / Tax Fingerprinting   Licensure Fingerprinting   Security & Exchange Fingerprinting   Medical / Health Care Fingerprinting   Verification Fingerprinting   Visa & Travel Requirement   Overseas Verification   Canadian Immigration and More.
Introducing a fresh new look for your Profile.
Click the 'Edit Profile' button below to enter 'Edit Mode' and continue the tour.