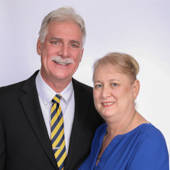 Real Estate Agent
Steve and Jan Bachman
Realtors - Northern Virginia
Herndon, VA

—

RE/MAX Gateway, Reston, Herndon, Ashburn, Sterling, Fairfax

RE/MAX International Inc.
Jan and Steve Bachman. Herndon/Reston Realtors serving all of Northern Virginia. Real estate is our full time profession, not our hobby. Straight talk, no hype, just results.
Get to know Steve and Jan Bachman
The Jan and Steve Bachman team are:
RE/MAX Hall of Fame, Northern Virginia Association of Realtor's Top Producers etc, etc, etc and lovely people too.
A home is much more than a roof over your head.  It is lifestyle, community and a relaxing haven.
Some of the most important decisions of your life will involve real estate and it's important to buy or sell with well trained, experienced professionals who understand your goals...and LISTEN.
It's also important to enjoy the process!
Jan and I have been operating as a team since we met as juniors when I was at Virginia Tech and Jan was at Radford.
Our goal is to make sure that you receive complete care as well as different points of view. (most of the time we agree)
Two opinions from people who want the same result for you. Satisfaction.
If you are planning on buying or selling a home in Northern Virginia, we serve as your advisors, advocates and marketing representatives. If you are relocating to Northern Virgina with the military (or as a civilian) we will set up a home buying tour in advance for you, pick you up at your hotel and go see some good ones.
Having us serve you as a buyer's agent is much like having your own attorney - someone who is looking out for YOUR interests as a buyer, not pushing any particular property but working to get you the best home at the most favorable price and terms.
Home sellers have a listing (seller's) agent helping them on the sales side and their fiduciary responsibility is to the seller not you.
Get a buyer's agent...there is no fee to you (at least that is our policy). Seller's pay all Realtor's fees unless otherwise negotiated.
Should you decide to sell your property, we take care of all the details from beginning to end so that you can get on with your life. It is our mission to get you the most money for your house, in the shortest period of time, with the least annoyance to you.
Our goal is to develop lifetime relationships, so that you see us as your real estate resource for as long as you live in Northern Virginia.... folks you can turn to for all of your real estate needs and who you are comfortable referring to your friends and relatives.
We are now serving our second generation of clients...but we are not so old that we fail to keep up with the latest marketing methodology!
Jan is a Northern Virginia native and together she and Steve have lived here for 30+ years. If you are a fast moving military, government, we understand your needs and can coordinate everything...even if you are overseas. If you are a swim team parent, we know the local ropes. We have been swim team parents and volunteers for 17 years
More Info.....
Click here to: SEARCH LIKE AN AGENT   No one will bother you. Search to your heart's content. Just fill in your info and you will be emailed back your access code. Data is as current as we have ever seen for the consumer. Realtor.com and the other consumer search programs can be days and weeks out of date. We have 3 search programs..clients seem to like this one best.
For a regular public home search click here:HomesByBachman.com
Steve and Jan Bachman's Blog Posts
|
Real Estate Market Trends
–

2 months ago
Local News and Events
–

26 days ago
Real Estate Market Trends
–

8 months ago
Real Estate Market Trends
–

8 months ago
Local News and Events
–

26 days ago
Real Estate Market Trends
–

8 months ago
Real Estate General Information
–

8 months ago
Certifications
-I liked working with you. You didn't talk all the time, continually pointing out the obvious.Roger L., Herndon VA
---
-A couple other agents said that they would be happy to help me. They always quit responding. I guess because I wasn't buying a million dollar house. You guys followed through.JB, Reston VA
---
-Steve: "Oscar, I checked my electronic lock box key and saw that we visited 37 homes in the last three days, plus the new construction. You guys are great clients; true "Road Warriors". I am glad we found the right home."OC:"That's incredible.  There is a commercial where this client thanks her agent for putting up with her through a "dozen or more home showings", to which the realtor corrects the number to 36, so we should consider making a commercial!!"    I really do appreciate your professionalism and responsiveness.  You used to be able to say "you get what you pay for", but we have found that to no longer be true.  So to find a truely professional agent who works hard and goes the extra mile has been a refreshing surprise to the expected "status quo".  (In other words, thanks again!!)Oscar C. Ft.Belvoir VA
--- -You sold our old house and found us the painters to fix it up. You found us our new home, found the right lender to help us buy it, the home inspector to make sure it was right and the settlement attorney to handle the paperwork. You helped us move. I would say that was a complete and thorough job. Thank you!
BR Fairfax
--- -I didn't think I could possibly buy a home. Even one half way to West Virginia. Yousaid I could and made it happen. ThanksSD (Halfway to West VA)                                                        ---                           
I guess you could call me a professional open house visitor. Just getting information for whenever we are ready to do something. You were the most helpful, pleasant, informed and prepared agent I have ever come across. Thanks.GW Vienna VA
I'm not much for writing, in fact I hate writing.
However, I do want to thank Jan and Steve for their hard work. Tirelessly working and taking me to more than 50 properties-helping me zone in on the home I wanted. From the start; great recommendations on prepping my old home to sell, they planted flowers, distributed flyers, held open houses, found me a lender, got me a mover(their gift), stocked us up with food on moving day. A great job! Thank you Jan and Steve.
Gary L Ashburn VA
                                                                                       ---
We had already bought a home in California. We had to sell the one here fast. Somehow Jan got it sold before the big slowdown set in. She and Steve then coordinated all the necessary fixups in order to meet the terms of the contract. We were gone. They took care of everything. We could have been in a bind, but they did what we could not. Put this in their file.
Jim Watson Fairfax VA
We had heard that selling your home was a real ordeal. We had barely finished cleaning before Jan had it under contract. We didn't have to do anything. It was over before we knew it. This probably isn't normal, but it was great for us!
Albert T Vienna VA
I don't know what to say. Everything was so smooth and fast. I didn't have time or need to worry. We were able to concentrate on getting our new home in North Carolina, since you took care of everything here. Thanks!
Jane A. Great Falls VA
It was such a pleasant experience- when others made it difficult, you got us through with ease. You really made the process and transition back to this area a pleasant journey.
RO Reston VA
Now that I got the house I'm ready to shop for the big screen TV. I have appreciated your help and wisdom through this entire process.
Dave S.  Springfield VA
Introducing a fresh new look for your Profile.
Click the 'Edit Profile' button below to enter 'Edit Mode' and continue the tour.