Plano, TX Homes for Sale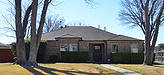 $250,000
3 br, 2 ba, 1,905 sqft
This wonderful 3/2 bath home is nestled in the heart of Plano and boasts all ...
Explore Plano, TX
(Providence Group Realty)
Texas is rich in cultural diversity. While standard and intuitive pronounciation is often used, mispronouncing colloquial names is a dead give away that you aren't familiar with the local area.Want to blend in?Step 1: Don't listen to your GPS. It doesn't know how to speak Texan.Step 2: Read this ...
(Providence Group Realty)
How do you know when you are "making it" in real estate? Watch for these 10 sure signs of success:10. You spend more time in other people's houses than you do your own home.9. You never cook any more.8. You get calls for showings on "your listing" and you have to ask "which one".7. You are on a f...
Plano, TX Real Estate Professionals