I was excited to get a call from Mark to Market to do one of their rush BPO orders.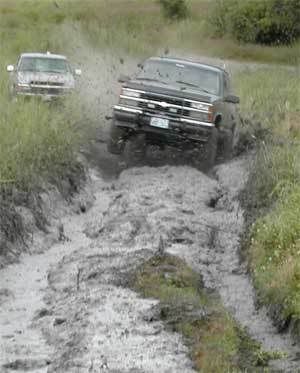 Normally by the time I log in to see one of their orders, someone has already logged in a picked up the bid.
Well, guess what? The reason why the original agent couldn't do the job was because they had car troubles. Hmmm...
Cut to me in my little Ford Escape. Yes, I've got 4x4. Thank God. I'm listening to the GPS tell me I have two miles to drive to the landmark intersection. A previous listing tells the reader to head south from Arcola and Powerline until you can see Vail Lake. Take the first dirt road and parcel is on the left.
About a mile and a half into the trek on the dirt road, I began to have a panic attack. The sweet little dirt road suddenly turned into an obstacle course that went up and down and over corners where I couldn't see around. I was scared to death.
I'm coming down a very steep hill probably about the length of a football field, AND THEN I see another car coming up toward me! What? I can't stop!?! What is this guy going to do????
So finally I come close, very close to my destination. I come to a road where I cannot see over the road and I cannot see the road after that drop off. I'm super close.
Guess what, I'm tenacious, but not stupid. I got out of the car, snapped my shots and decided to call it quits. Besides, I have to drive all the way back to get to solid ground.
On my drive back, I'm wondering....hmmm....I wonder how many Realtor's cars are at the bottom of that hill???I mean, come on! There's no way that 9 out of 10 agents would have even considered going that far to do a bpo order. The photo embedded is only a reinactment of what I felt like I was doing today, but seriously, its pretty close! Not kidding!!!