And just think, you almost missed it. ;-)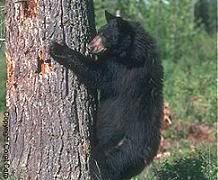 As a avid hiker and backpacker in the nearby Great Smoky Mountains National Park I run across the occasional black bear in the backcountry. However black bears in their native enviroment are shy and will usually run at first contact with humans.
They do however like to eat and if you're packing food, cables are provided to hang the food at night and keep the bears and other critters away. It's a regulationin the Smokies that you hang your food at night while camping in a backcountry campground or trail shelter.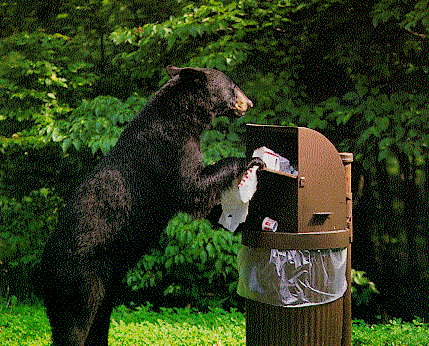 Black bears like to visit frontcountry campgrounds because of the plentiful, easy to get, food supply.
Of course our local Knoxville Zoo is participating with Bear Awareness Day.
The stated purpose of National Bear Awareness Week is to educate the public about the integral role that bears play in nature as well as the importance of respecting biological diversity.

And of course for any outdoorsman there's always a good bear story or two.
A couple of years ago a friend and I were spending 2 days at a backcountry tent campsite. Just like the regulations say we hung all our food on the steel cables provided for that purpose and went to bed.
Next morning I go up to the cables to retrieve our food for breakfast and 1 of our 2 food bags is not there.
After a search later in the morning we found the bag about 100 yards down the trail, ripped to shreds, and of course all the food either eaten or scattered. One of the items in the bag was a small aluminum percolator type coffee pot which my friend had stuffed full of food to save room. The pot was also full of teeth marks and holes the size of my little fingers where the bear had bitten into it after the food inside.
We now use sturdier bags and clips to augment the hooks on the end of the cable; a hungary bear will find a way to eat.
I often see tourists, blissfully unaware they're in the wilderness and not protected from the animals like they would be in a zoo, try to get their children or other family members to "go over and stand beside that cute little bear" for a photo op. Fortunately a ranger or knowledgable park visitor is usually nearby to stop them.
My all time favorite "dumb tourist a & bear" story involves a family who were driving around a scenic drive in the family minivan one lovely spring day. Nearby the kids spotted a bear cub who had caught a young faun (baby deer) and was in the process of having it for lunch.
"Daddy, daddy", they screamed, "that bear is killing Bambi".
Dauntless and dumber than a rock daddy said, "Don't worry kids, I'll save it." and proceeds to go over and drop kick the bear off his prey, scoop the bleeding faun into his arms, toss it into the minivan and race over to the nearest ranger station.
He ran in with the bleeding faun, gasped out his heroic tale to a group of astonished rangers, and was promptly arransted for interfering with wildlife in a national park; a federal felony.
Forunately the bear cub's mama wasn't nearby or this tale would have had a grimmer ending.
The hero dad was fined $1,000 in federal court a few months later and banned from entering the Smoky Mountains park for 1 year.
Wild animals are fascinating to view in their native environment but everyone needs to remember that they are, after all, wild animals and there are no bars protecting you from them (and vice versa).
Celebrate National Bear Awareness Week.