My friends at Active Rain, I am sure that many of you can relate to my dilemma. I think that everyone has had a time or a place in a lifetime when he or she has been embarrassed by the actions of someone who is, in one way or another, close to us personally.
That embarrassment could be the anti-social actions of someone of our faith, our club or a social group, a member of the family or simply a member of the same species. In the appeal for help that I am making today, I am afraid that my embarrassment comes from two different directions.
Let me explain. As many of you know, I am a top criminal investigator.  
What you do not know is that, for the past three years, there has been an armed Easter egg bandit in Whatcom County. That bandit has accosted and robbed the Easter bunny when the bunny has been delivering eggs to children. This has created a hardship for many local children and it has been an unexpected, traumatic and devastating experience for the Easter bunny. The photo below is the Easter bunny, shortly after having been robbed at gunpoint. The poor sad and discouraged bunny is being supported and consoled by an assistant. This Easter bunny, prior to the robbery, had been carrying fifteen baskets of eggs to distribute to children. Now there is only one basket left and it is all smaller eggs.
As an impartial and experienced master investigator, I have seen many heartbreaking cases. You might wonder why this one is tugging at my heartstrings. It is because this one hits too close to home. Reports and descriptions of the egg bandit indicate that the perpetrator is not only a member of my species but, worse yet, also a member of my immediate family. 
The photo above is the suspect who has been ambushing, and then getting the drop on, the Easter bunny. The suspect is a master of changing his appearance, so as not to create suspicion. I regret to say that I believe that this suspect is my second cousin, on my sister's side, Mr Clyde Barrow-Berry. He was always a problem as a youngster and, as an adult, his violent tactics have made the Easter bunny's life a scary and uncertain roller coaster ride.
We police have had one major break in this ongoing case. Last year, at the time of the robbery, a surveillance camera caught the perpetrator as he was drawing down on the Easter bunny. This video will give you an idea of how threatening the suspect -- unfortunately my cousin Clyde -- can be. PLEASE DO NOT TRY TO APPREHEND THIS SUSPECT ON YOUR OWN. He should be considered to be armed and dangerous.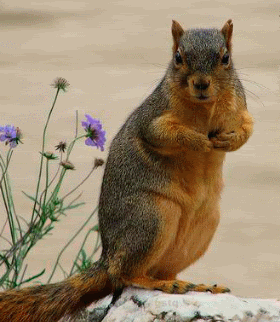 Earlier today I held a major radio press conference. In that interview with reporters, I provided all of my police contact information. Please call immediately if you see the suspect. It is important that we apprehend this suspect as soon as possible so the Easter bunny can operate in an unencumbered manner this Easter. Click on the microphone to hear the press briefing and to get my contact information.
Nutsy S. Wallenda
Certifried Home Inspector Assistant and Cop

Hang out in the same tree with Nutsy and his boss by subscribing to their blog