Hi Everybody
,


I've been off the grid here lately as the spring market has taken up all of my time with 3 new sales as well as servicing my many other buyers that have been popping up.

I just thought I'd add this quickly as I had gotten an email from the Optimist group to post something funny. 

I feel like I have been on this road lately as I have been going in so many directions it's getting hard to keep track of it. Don't ge me wrong I am thankfull for my business.
My GPS is getting a good workout for sure.

Try to follow this road......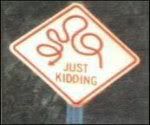 GPS loves this kind of stuff.....



Enjoy your Friday......

I'll be back as Arnold once said.
__________________________________________________________________

Robert and Lisa Hammerstein • Sales Associates • Coldwell Banker • (201)315-8618

• Address • 50 Broadway • Hillsdale, NJ 07642 •