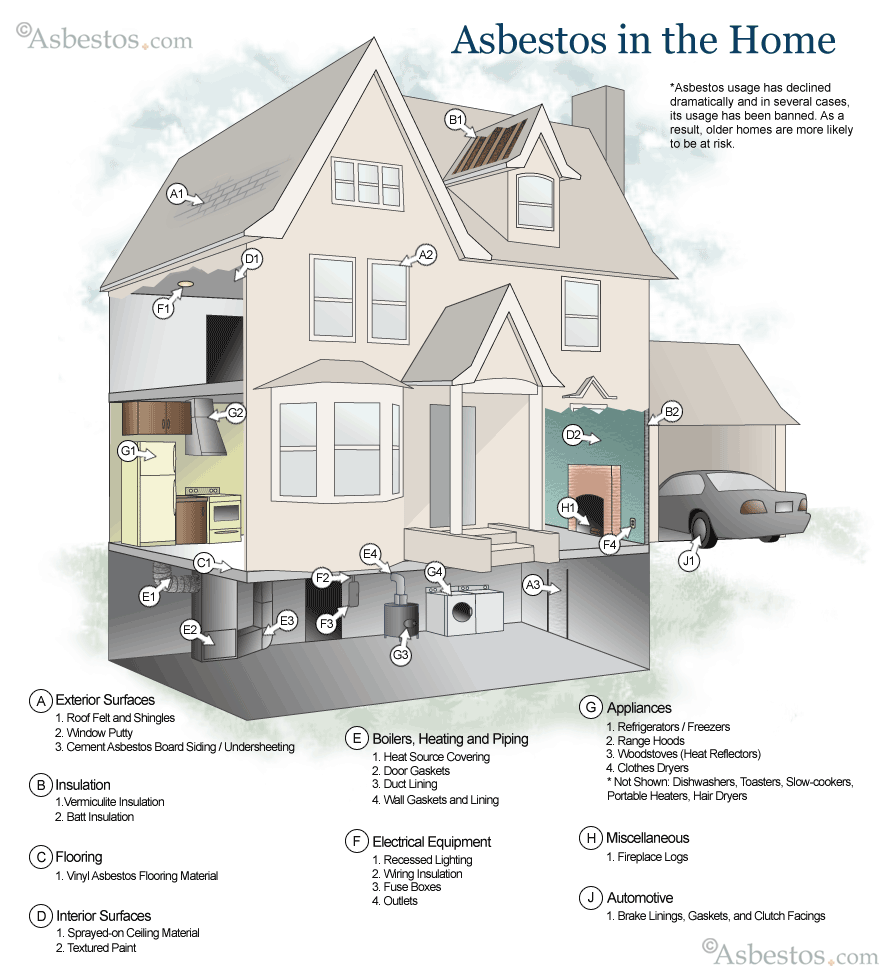 Used in many construction applications for the greater part of the 20th century, asbestos is a fibrous mineral that possesses many intrinsic traits. In most situations, asbestos appears in roof shingles, dry wall, attic insulation, popcorn ceilings, joint compounds and electrical wires. It's flame resistant and durable qualities made it an ideal choice for many industries. Sites where asbestos has been used extensively include steel mills, power plants, shipyards and other marine industries.
Potential Michigan home buyers
or those seeking to remodel an older home should be aware that homes built before 1980 may still contain asbestos materials. This should not make you jump out of your seat because asbestos exposure is easily preventable by taking simple precautions. There are now many eco-sustainable options that replace the need for asbestos. According to the experts, the general rule of thumb is if the asbestos is in good shape, it's posing no apparent risk. If it's in bad shape, it could be a problem. In many situations, the best action in dealing with asbestos is no action at all. However, if an inspector deems removal necessary, it must be performed by a licensed abatement contractor who is trained in handling asbestos materials. They must wear protective equipment such as masks and gloves to avoid any potential exposure. When asbestos deteriorates and its fibers become airborne, it has the potential of causing severe lung ailments such as mesothelioma and asbestosis. Mesothelioma will often progress to the later stages of development, resulting in poor
mesothelioma prognosis
for the majority of patients. The amount of incidents in relation to the asbestos scandal has lead to
mesothelioma lawyer
firms protecting victim rights throughout the country. The asbestos and corporate industries were aware of the health hazards involved with asbestos, but continued the widespread manufacturing of the substance anyways. Millions of people have been wrongfully exposed for financial gain. Recently, congress passed an economic stimulus package that promotes energy efficiency for home and business owners. The
American Recover and Reinvestment Tax Act
of 2009 includes incentives for upgrading to more Eco-friendly/sustainable methods of energy and insulation. The move to a greener lifestyle will build on the change to healthier methods of building products, home remodeling and renovation. Some of the measures eligible for tax credits include: • Sealing cracks in the building shell and ducts to reduce infiltration and heat loss - these should be sealed so as to be consistent with the 2009 IECC. • Pigmented metal roofs or an asphalt roof with cooling granules must meet Energy Star requirements. • Window films certified by the manufacturer that the product meets the requirements of a "qualifying insulation system." Non-profit organizations such as Michigan GREEN, consists of energy consultants and companies who have joined forces with schools, government agencies and conscious individuals to promote the cause of renewable and green efficiency throughout the U.S. The move to a greener lifestyle will build on the change to healthier methods of building products, home remodeling and renovation.