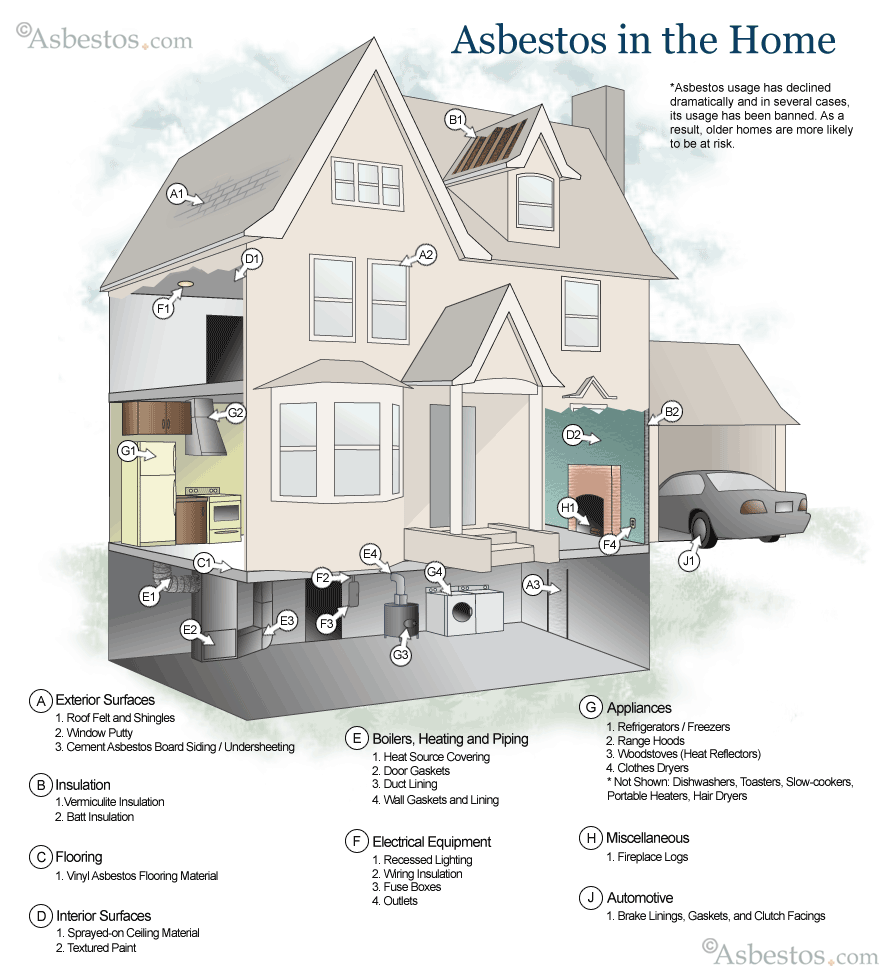 When searching for a new home or apartment, there are many things to consider. The path to owning a home will be one of the greatest investments in your life, but it will bring many additional responsibilities.
Newly bought homes are often remodeled and repairs are always needed. There are many things to consider in the real estate industry when purchasing, remodeling or foreclosing an older home. Having the assistance of an honest and experienced real estate agent can make all the difference during this process.
Washington's large industrial history has given the state a relationship with asbestos. This fibrous mineral gained popularity at the early part of the 20th century due to its innate fire resistant and durable qualities. Its characteristics made it perfect for building and construction applications. Asbestos typically appeared in ceiling insulation, piping, siding, roof shingles, brake lining and flooring.
Potential Washington Metro Area home buyers or those seeking to buy an older home should be aware that homes and buildings constructed before 1980 could still contain asbestos materials. This does not mean you should jump out of your chair because asbestos exposure can be easily prevented by taking simple precautions.
It must be noted that not all asbestos poses health risks. Asbestos that is disturbed or damaged due to age is known as "friable" asbestos. This is a concern because its toxic fibers can easily circulate and become inhaled. Consistent and long term exposure can result in the development of related illnesses such as malignant mesothelioma and asbestosis. Mesothelioma causes are as a result of inhaling asbestos fibers that become ingested in the inner linings of your lung.
If any suspected asbestos is located, the best advice is to leave it alone. If you are having home renovations, performed, do not panic. Again, asbestos that is left un-disturbed will normally pose no threat. If asbestos needs to be removed, it must be performed by licensed abatement contractors.
The removal of asbestos from specified locations must be undertaken by abatement contractors who are licensed in their corresponding states.
The move to a greener lifestyle will build on the change to healthier methods of building products, home remodeling and renovation. Many locations throughout the United States are swiftly changing their construction practices to suit the environment and the health of human beings.
Many green healthy alternatives to asbestos are available and should be sought out upon removal or renovation. These include the use of cotton fiber, lcynene foam and cellulose. Research has demonstrated that these eco-friendly insulation alternatives can even reduce annual energy costs by 25 percent!
Recently, congress passed an economic stimulus package that promotes energy efficiency for home and business owners. The American Recover and Reinvestment Tax Act of 2009 include incentives for upgrading to more eco-friendly/sustainable methods of energy and insulation. The move to a greener life style will build on the change to healthier methods of building products, home remodeling and renovation.