New $8,000 Tax Credit for First Time Home Buyers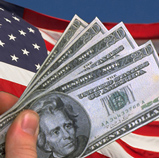 Great news for first time home buyers in 2009! Qualified first time home buyers are eligible for an $8,000 tax credit when buying a primary residence. If you haven't owned a home in the three years prior to closing, congratulations! You are also eligible.

Remember, a tax credit is much more valuable than a tax deduction. A tax credit reduces dollar for dollar the amount of tax you owe. A deduction merely reduces the amount of your income that is taxable. Here are two examples of how the tax credit works. You paid $4,000 in taxes. Qualify for the full credit and you get that $4,000 back, plus another $4,000. If you paid no taxes, you get the full $8,000 back in cash - and you don't have to pay it back!

Eligible buyers may qualify for a tax credit of up to 10% of the purchase price or $8,000, whichever is less. To qualify for the full credit, the buyer's modified adjusted gross income must be less than $75,000 for single taxpayers and $150,000 for married taxpayers filing a joint return. A partial credit is available for incomes under $95,000 (single) or $170,000 (married).

In order to qualify, the $8,000 tax credit is available for qualifying home purchases made through Dec. 1, 2009. This is not a typo. If your closing occurs December 2nd or later, you lose.

Want one more reason to act now? Qualified home buyers can apply the credit to either their 2008 or 2009 tax return. To get the credit for 2008, see your tax professional about filing an amended return. For other program requirements, give us a call. We'll run the numbers and see how much you can save.
Mortgage Interest Rates*
Rates as of Friday, 22nd May, 2009:
Conforming
APR
Payment per
$1,000
Jumbo
APR
Payment per
$1,000
30-Yr. fixed
4.875%
5.005%
$5.29
5.625%
5.716%
$5.76
15-Yr. fixed
4.500%
4.723%
$7.65
4.875%
5.026%
$7.84
7-Yr. fixed ARM
5.000%
5.131%
$5.37
4.990%
5.077%
$5.36
5-Yr. fixed ARM
4.500%
4.627%
$5.07
4.875%
4.962%
$5.29
3-Yr. fixed ARM
4.500%
4.627%
$5.07
4.115%
4.198%
$4.84
5-Yr. Interest Only
4.750%
4.879%
$3.96
5.125%
5.213%
$4.27
*Rates are subject to change due to market fluctuations and borrower's eligibility.
| | |
| --- | --- |
| Superior Home Mortgage Corp. licensed in DE, FL, GA: Georgia Residential Mortgage Licensee #14511, MD, MI, NY: Licensed Mortgage Banker - NY State Banking Department, NC, PA, SC, VA: Virginia State Corporation Commission License # MLB-566, & DC. Superior Mortgage Corp. licensed in CT, MA: Mortgage Lender License # MC3208, NJ: Licensed Mortgage Banker - NJ Department of Banking, RI: Rhode Island Licensed Lender & Broker, & TN. SHM Mortgage Licensed by the New Hampshire Banking Department | |



Karl Peidl
Senior Mortgage Consultant
Superior Mortgage Corp
Phone: (800)706-6671 x4349
Fax: (609)294-4186
kpeidl@supmort.com
www.karlpeidlsmc.com

© Copyright 2009. All About News, Inc.