What is AmericanTowns.com ?

AmericanTowns.com is a site that provides community information and more importantly local events, seminars, etc for specific towns. Consumers can search by town, then by date, type of event, venue, etc. It is a really great resource for agents and can be used in a several different ways.
As a Real Estate Agent/Broker, How can you use it?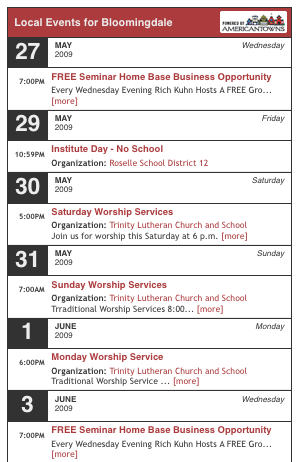 1. Do you host any type of class, seminar, or event? If so, you can add it to this site for free. It displays nicely with your web address and information, and appears when anyone searches for that city or particular type of event.

2. Having a community events page is a great way to add constantly changing information to your website. Become a resource for leads searching for community events and things to do! This is a great site to check when adding events to your site, and provides all the right info, place, date, time, etc.

Don't have time to update an events page – no problem! AmericanTowns also offers a widget, that you can add to your site for free, which posts the community calendar of your choice. See the screen shot to the right for how it displays. To use this feature, simply go to your preferred town on AmericanTowns.com and click the "Add a Community Calendar to Your Site" icon. This will provide you with HTML code to add to your site! So SIMPLE!

3. You can also find and submit community videos to this site. Have you created a community tour or perhaps a video of a condo complex? If so, you can add them to YouTube and follow some simple instructions (it all has to do with the tags to you add), then your video will show up on AmericanTowns.com .

This site has proven to be a helpful resource for my clients and me so far, and I would recommend utilizing it for your own business! I encourage you to add events, research local events or just have a look!
Need a Real Estate Virtual Assistant to help you implement these ideas? Contact us today. We're a team of real estate specific Virtual Assistants and because we're in the industry working with Top Producers every day, we know what works!
Jen Miller
Marketing Manager