This company is amazing in so many ways! In the last 6 years........ They wrote the #1, #2 and #3 Real Estate books: Millionaire Real Estate Agent, Millionaire Real Estate Investor and SHIFT. They wrote Your First Home.
Click on the player and click on the SHIFT tour promo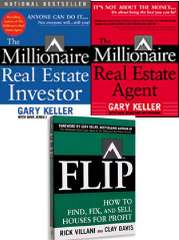 Produced 2 outstanding workshops for agents to deliver. They wrote the best training courses ever: - CAMP 443 (Creating Agent Maximum Productivity. - Lead Generation 36 12 3 - Buyer mastery - Seller Mastery - Agent Mastery Series - Your Business is Your Database - Internet Lead generation...
Created AgentMouintain.com so Gary Keller can talk directly to agents.
Created LeadershipMountain.com so Mark Willis and Mary Tenant can talk to Leadership directly.
Created KwConnect.com the best on line training in the industry.
Developed a cadre of Keller Williams University instructors. A selection of just some of the Online Seminars - Mini Webinars - Power Point Presentation.......its unbelievable!
Created MAPS coaching (Mega Agent Productivity Systems)
Profit shared tens of millions to agents.
Developed thousands of millionaire agents.
Now has moved from the 6th place company in the Real Estate universe, passing Prudential 2 years ago, and now this past year overtaking Remax in the third position.
The Keller William Difference - Different by Design!
At Keller Williams Realty, we like to think we stand out from other real estate firms in many ways, but these areas in particular define Keller Williams Realty as an industry innovator and leader: Culture, Education, Profit Share and Technology.