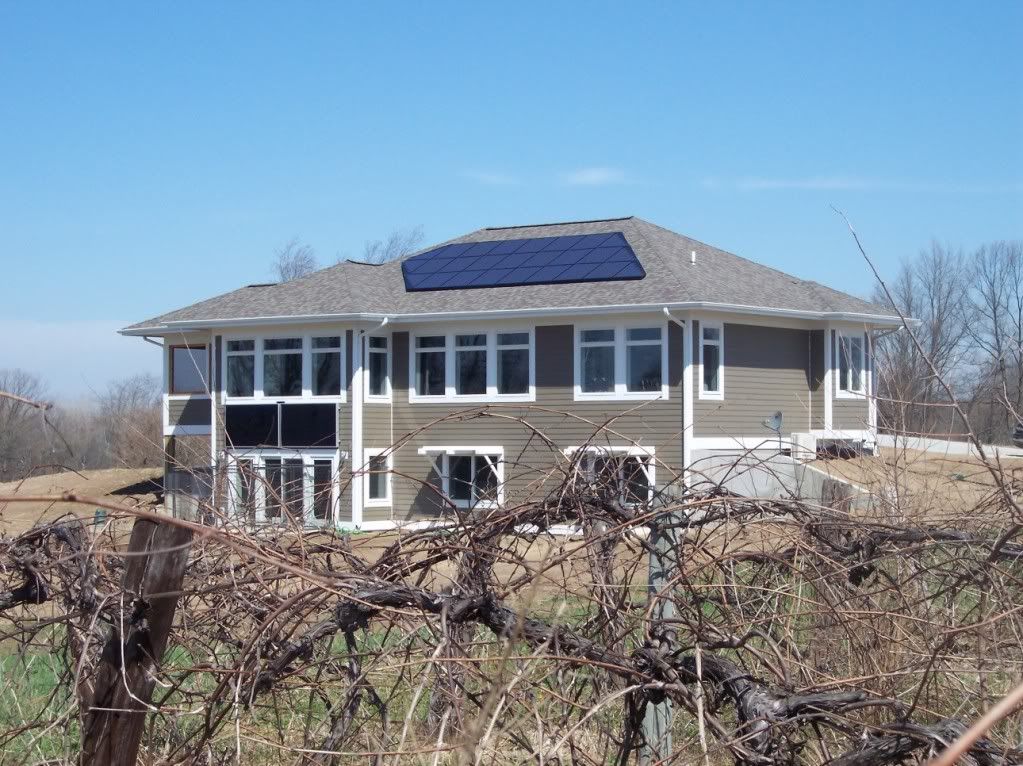 Image Design's newest Net-Zero residence design in Paw Paw, Michigan they've dubbed the "Vineyard Project" because it is nestled in South Western Michigan's wine country and is located next to one of Paw Paw Winery's vineyards. The home features Prairie stylings and is projected to be a minimum of LEED for Homes "Gold" certification. With its passive solar design features and photovoltaic panels, this home uses about 600 kwh of electricity a month and is generating about 20 kwh of electricity per day, even though it has been fairly cloudy the last month. With the sunny summer month coming they expect this home to be net-metering backwards on a daily basis. Though not a small home (this home has 3,027 sq. ft. of finished area) it was built for about $134.00 per square foot (before any rebates) by Hybrid Homes, LLC.
Some of the key sustainable features of this home include:
Projected to be a minimum of a LEED for Homes "Gold" Project
Energy Star Rated
Passive Solar Designed
Colored Concrete floors through-out the house. (Great Thermal Mass)
Lifetime Designed (Barrier Free)
Zero Step entries
ICF construction (BuildBlock ICF's)
Finger Jointed Studs on all interior walls
CertainTeed FiberCement siding (Includes 40% Fly Ash)
Energy Star LED & CFL lighting
Energy Star Ceiling Fans
Energy Star Appliances by GE
Concrete Counter tops
FSC certified woods
Energy Star Andersen 400 Series Windows
Duel-Flush toilet by Kohler
Pex Plumbing
Radon Venting
Solar Hot Water. (30% Rebate)
Radiant Heat Through-out Home
ERV (energy recovery ventilator)
No-VOC Paints and primers
Low-VOC caulks and sealants
3.3 kw of Photovoltaic (30% Rebate)
Geo-thermal (30% Rebate)
Pre-wired for a future Wind Generator
Image Design, LLC will be having a open house for the "Vinyard Project" in a few weeks. If any Active Rain readers are interested in seeing this home please email tham at eric.idarch@gmail.com.