The recent interest rate increases are a real wake up call for every buyer in the market thinking about taking action soon. Some are even going to feel like they have missed the boat and you should not let them feel that way. The chart below demonstrates the quick increase in mortgage rates. Please understand that it is an inverse relationship. As the mortgage bond prices decline(below) mortgage rates increase.

Chart: Fannie Mae 4.5% Mortgage Bond (Friday Jun 05, 2009)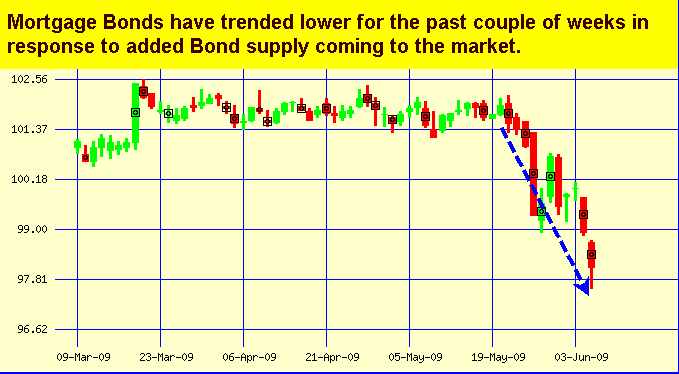 Even today as I prepare the following message the mortgage bond prices continue to decline.

The problem is that many home buyers have been lulled into a sense of complacency because of extremely low interest rates. Since the Federal Reserve initiated its program of buying mortgage-backed securities, which control the rates people pay for their home loans, rates had been range bound, bouncing between 4.50% to 5.00% for a 30-year fixed-rate loan.

But buyers shouldn't be confused by this. These rates are artificially low! Historically, interest rates have been above 6.00%. And any rate obtained below this number is a great deal, especially on homes with price tags from 2003!

There may be one more opportunity to see rates drop but this will not be a long sustained move, but rather a quick V shaped trading pattern. As most of us know it may take 45-90 days for a buyer to identify, negotiate and close a home. Looking forward there has not been as good of a time to buy a home as the market we are in today.

Time to take action is now!
Market Comment

Mortgage bond prices had another terrible week pushing mortgage interest rates considerably higher. Personal income, outlays, construction spending, ISM Index, and payrolls data came in stronger than expected. This did little to help the already shattered bond market. Oil prices continued to escalate hitting over $70/barrel. The Fed attempts to keep rates in check were not very effective as selling pressure continued. Bernanke tried to calm the markets by reiterating forecasts of tame inflation but his words fell on deaf ears among bond traders. For the week interest rates rose by about 1 and 1/2 of a discount point.
The Treasury auctions will once again take center stage, as the market has to deal with additional supply. Continued strength in the economic data will do little to help mortgage interest rates improve.
LOOKING AHEAD
Economic
Indicator

Release
Date & Time

Consensus
Estimate


Analysis

3-year Treasury Note Auction

Tuesday, June 9,
1:30 pm, et

None

Important. $35 billion of notes will be auctioned. Strong demand may lead to lower mortgage rates.
Trade Data

Wednesday, June 10,
8:30 am, et

$28.7 billion deficit

Important. Affects the value of the dollar. A falling deficit may strengthen the dollar and lead to lower rates.
10-year Treasury Note Auction

Wednesday, June 10,
1:30 pm, et

None

Important. $19 billion of notes will be auctioned. Strong demand may lead to lower mortgage rates.
Fed "Beige Book"

Wednesday, June 10,
2:00 pm, et

None

Important. This Fed report details current economic conditions across the US. Signs of weakness may lead to lower rates.
Retail Sales

Thursday, June 11,
8:30 am, et

Up 0.3%

Important. A measure of consumer demand. A smaller than expected increase may lead to lower mortgage rates.
Business Inventories

Thursday, June 11,
10:00 am, et

Down 1.0%

Low importance. An indication of stored-up capacity. A stronger figure may lead to lower rates.
30-year Treasury Bond Auction

Thursday, June 11,
1:30 pm, et

None

Important. $11 billion of bonds will be auctioned. Strong demand may lead to lower mortgage rates.
U of Michigan Consumer Sentiment

Friday, June 12,
10:00 am, et

68.6
Important. An indication of consumers' willingness to spend. Weakness may lead to lower mortgage rates.

Payrolls

Last week was a prime example of the divergence between the unemployment rate and payrolls figure along with the risk of floating into important data. Unemployment came in at 9.4%, higher than the expected 9.2%, while non-farm payrolls fell 345,000, not as much as the expected 520,000 decline. Mortgage bond prices fell and rates spiked higher. Bond traders hoped the report would provide a solid indication that the labor market remained weak. Unfortunately it left more uncertainty. The unemployment figure is derived from a household survey while the payrolls number comes from an employer report.
Energy prices have risen considerably stoking inflation fears amid record debt levels. As a result the low mortgage interest rates that everyone considered a given have quickly gone away. The Fed continues to purchase mortgage bonds in an effort to keep mortgage interest rates low but they face a daunting task as the selling pressure continues. The Fed still has over $700b marked for purchasing additional mortgage bonds. The question remains whether that will be enough to help rates turn lower. So far it appears additional measures are needed.
MORTGAGE RATES
| | |
| --- | --- |
| Loan Programs | Interest Rates* |
| 30 Year Conv. | Mid 5's |
| 30 Year FHA/VA | Upper 5's |
| 30 Year Jumbo | Low 7's |
| 5/1 Arm Conv. | Low 4's |
| 5/1 Arm Jumbo | Upper 5's |
Please contact us for specific situations and specific rates.
*Risk Based Pricing will affect rate offered.
MORTGAGE RATE TRENDS

DAILY RATE LOCK ADVISORY








For an in depth explanation and daily update click on The Daily Rate Lock Advisory.




A copy of this newsletter can be found at Market Update.
also check out Quick Tips
and Home Loan Toolbox