Yesterday we made two additions to our arsenal of vFlyer Listing Widgets: a 100-pixel wide and a 200-pixel wide auto-scrolling multi-item Widget. Unfortunately, these images are not animated.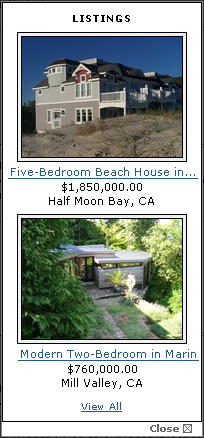 The two new Widgets give our users more and better options for integrating their vFlyer content into their websites, blogs, and social networks. The new Widgets are especially useful in blogs, where often the sidebar is the default location of widgets and other components. In particular, bloggers on ActiveRain should find the new narrow scrolling Widgets quite valuable.
Also, the new Widgets don't include vFlyer branding on them, which makes it even better to incorporate them into your website, social network profile or blog.
The new Widgets are part of our line of Premium Widgets available only to vFlyer business subscribers. If you have a vFlyer Personal account and are interested in upgrading your account to take advantage of the new Widgets, you can do so by clicking here.
To preview these widgets, click to the vFlyer Widget Library. Scroll down to the Scrolling 100px and Scrolling 200px widgets.
On a related note, we will be adding a new series of short video tutorials on vFlyer Widgets soon. We hope that with the introduction of the scrolling sidebar Widgets and new video tutorials, we see lots of fantastic vFlyer Widgets out there this summer!