Beginning July 1, all California Realtors will need to include their CA DRE license number on any "solicitation materials intended to be the first point of contact with consumers," as stated in a bill passed by the California State Senate (SB 1461). While the new amendment excludes electronic media, since vFlyer also provides print content for our users, we wanted to make sure that they had a way to include their DRE license number on their Flyers. That's why we introduced an Additional Info field in the Account Profile, where you can enter not only your CA DRE license number but also other information, such as a mobile phone number. And given that different states have different laws regarding real estate advertising, the Additional Info field gives users more flexibility in terms of what information gets included in their Flyers and Account Profile.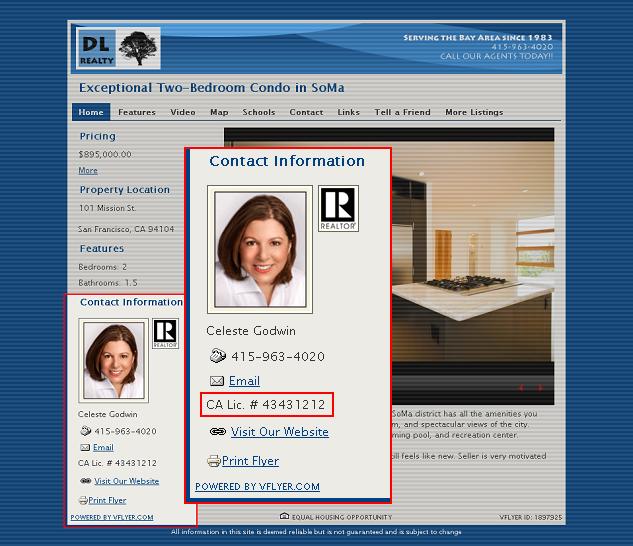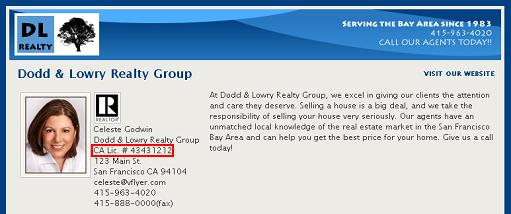 You can find the Additional Info field on your Account page (see image below). Any text you enter in this field will appear in the Contact Information section of your Flyers.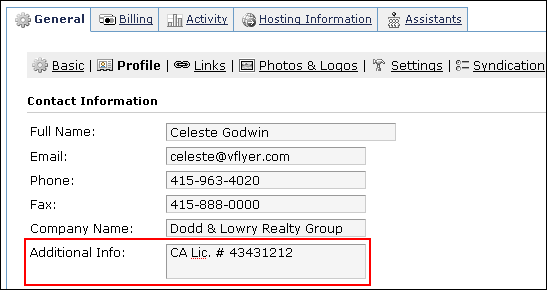 Thanks to Chris Crane at Red Oak Realty, Kristine Johnson at Gallagher & Lindsey Realtors, and Jason Born of Signature Realty & Mortgage, Inc., for providing us with useful feedback on the new California law.
If you need assistance, call or email vFlyer Support.