It comes as no surprise to those of us living here in Hopkinton, and now Money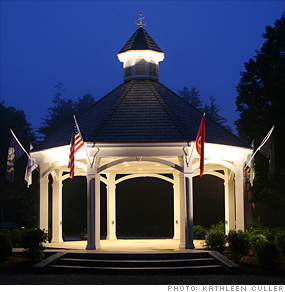 Magazine has put together a Top 100 List of best towns to live in the U.S.* Their criteria included affordability of housing, incomes, commute times, climate, job growth, and clean air ratings. In the words of Money magazine, "Yes, strong local economies still exist. These small towns have 'em - plus great schools, affordable homes, low crime, and much more."
Quality of education always plays a role in these rankings and Hopkinton has consistently performed very well on that score. See the links below for more details about Hopkinton's award winning school system, the financial stability and health of the town, and some of the natural beauty we so love about Hopkinton.
The MetroWest Daily News also picked up the story with quotes from Tim Kilduff from the Hopkinton Chamber of Commerce, Brian Herr, the Chair of the Board of Selectmen, and local real estate agents Bill Gassett and Katie McBride. The Worcester Telegram and Gazette also ran the story and quoted our Board of Selectman Chair Brian Herr: "Once we looked at the real estate & the schools, we were hooked (on Hopkinton),"
Star Realty Hopkinton specializes in residential real estate sales in and around Hopkinton. Keep up with the latest local market reports at the Star Realty Blog. Hopkinton: it's where we live, where we work, and where we give back!
*CNNMoney's Best Places database of 1,800-plus U.S. cities includes towns with populations 8,500 to 50,000 with satisfactory education and crime scores, where income is below 200% of the state median, and that are no more than 95% white – as well as cities with populations 90,000 and up.