Are You Withholding Enough for This Year's Taxes?
The Answer May Surprise You!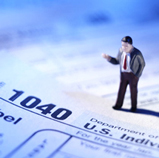 Based on the "Making Work Pay" tax credit, employers now use new withholding tables to lower the amount of tax that is withheld from eligible workers' paychecks.

That means, you're probably receiving more money in each paycheck-up to $400 more per year if you are single and up to $800 more if you file jointly. While this sounds like a benefit, you need to make sure you don't end up paying in at the end of the year because you aren't withholding enough due to this rule.

What Should You Do?
First...take note of when your company starts paying. The new withholding tables were structured to start in April. If your employer started that month, then your paychecks will likely equal the appropriate amounts by the end of the year. However, if your payments started in February or March, you may receive a bit more than you were due. And if your payments start later in the year and you receive less than you are entitled to, you can claim the difference on your 2009 tax return.

Second...double-check your unique situation and withholdings to make sure you're not a risk. The IRS makes it easy with an online Withholding Calculator available at www.irs.gov/individuals/article/0,,id=96196,00.html. This convenient online tool now reflects the new withholding tables created by the "Making Work Pay" tax credit.
Mortgage Interest Rates*
Rates as of Thursday, 16th July, 2009:
Conforming

APR

Payment per
$1,000

Jumbo

APR

Payment per
$1,000

30-Yr. fixed

5.375%

5.509%

$5.60

5.625%

5.716%

$5.76

15-Yr. fixed

4.750%

4.975%

$7.78

4.750%

4.900%

$7.78

7-Yr. fixed ARM

4.750%

4.879%

$5.22

5.125%

5.213%

$5.44

5-Yr. fixed ARM

4.500%

4.627%

$5.07

4.750%

4.836%

$5.22

3-Yr. fixed ARM

4.500%

4.627%

$5.07

4.115%

4.198%

$4.84

5-Yr. Interest Only

4.750%

4.879%

$3.96

5.000%

5.088%

$4.17
*Rates are subject to change due to market fluctuations and borrower's eligibility.
Karl Peidl
Superior Mortgage Corp
Augusta Professional Center 854 S White Horse Pike
Hammonton, NJ 08037
800-706-6671 ext 4349
www.facebook.com/newjerseymortgages
| | |
| --- | --- |
| Superior Home Mortgage Corp. licensed in DE, FL, GA: Georgia Residential Mortgage Licensee #14511, MD, MI, NY: Licensed Mortgage Banker - NY State Banking Department, NC, PA, SC, VA: Virginia State Corporation Commission License # MLB-566, & DC. Superior Mortgage Corp. licensed in CT, MA: Mortgage Lender License # MC3208, NJ: Licensed Mortgage Banker - NJ Department of Banking, RI: Rhode Island Licensed Lender & Broker, & TN. SHM Mortgage Licensed by the New Hampshire Banking Department | |




© Copyright 2009. All About News, Inc.