I will always be grateful for Walter Cronkite.
You'd know why I say that if you grew up in the 1960's or '70s, when television news was such a totally different industry from what it is today, and when we depended on it so much to learn about our world.

Back then, television news was real.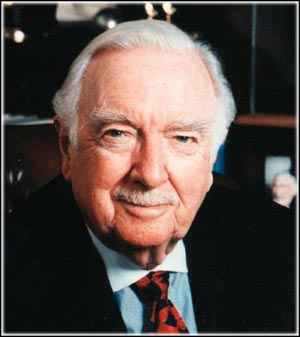 The most trusted man in America, as he was frequently called, held that title for a reason. Mr. Cronkite brought honesty and integrity to a profession in its infancy. It was inevitable that so many Americans would connect with his down home demeanor and sincerity.

And, unlike so much of the reporting Americans watch today, Walter Cronkite was willing to question authority.

His nearly two decades as anchor of the CBS Evening News coincided with what became a daily viewing routine for millions of families, including mine. Hurry, Mom would say, "it's almost time for Walter."

We always made it a point to gather around the television set at 5:30 p.m. to hear Mr. Cronkite explain the events taking place at home and abroad. If you missed him, you had to wait until the next day; after all, there were no constant news cable channels, no electronic ticker tape bulletins crawling across the screen, and no Internet. Pretty much, there was just Walter and his fellow journalists, inching their way along in a new electronic medium, void of splashy motion graphics and sound effects, doing what they did best: informing.

Walter Cronkite is part of the reason I vividly remember July 20, 1969, when the black and white television set in our Texas living room brought us fuzzy images of Neil Armstrong setting foot upon the moon. We watched in suspense, while Mr. Cronkite, through his compelling storytelling, helped us realize the magnitude of what we were witnessing. There are so many other memories I have of seeing Mr. Cronkite bringing us news that I can't count them all. When someone is in your living room every day, well, he's family.

Mr. Cronkite didn't know it, but he helped inspire a young Texas kid to pursue a career in the news business. Prior to getting into real estate, I spent more than 30 years in broadcast journalism, including working in television news in Texas and, later, Alabama. My love of journalism started around age seven, and included recording make believe newscasts on our old reel-to-reel tape recorder, as well as creating newspapers while seated at Dad's IBM electric typewriter.

My mother once said to me that she expected me to one day sit in Mr. Cronkite's anchor chair. That wasn't meant to be, but a wonderful thing happened, anyway: I got to grow up in the Cronkite era.

From all the TV news I watched in the days of the Cronkite era, I could tell you the names of many on-air correspondents, as they were known. Eric Sevareid and Howard K. Smith were familiar; I traveled across America, On The Road, with Charles Kuralt, a regular feature on the CBS Evening News. There was John Chancellor. Dan Rather. Chet Huntley. David Brinkley. Daniel Schorr. Hughes Rudd. Roy Neal. And so many more. I followed local news on both television and radio, as closely, too.

The fire really got lit after a trip to New York City when Dad took a budding young journalist of around age ten to 51 W. 52nd St to see the CBS Morning and Evening newscasts produced live. Mr. Cronkite was off that day, but I still got to see where the giants of the industry worked! My eyes were wide open when Mr. Rudd welcomed us into his small office for a visit following the morning newscast. The thrill of getting to watch the news from the main Control Room was the experience of a lifetime (which reminds me … I need to tell my Dad, again, how cool it was of him to arrange that).


The Cronkite thrill didn't stop after childhood. It came back for me as recently as September 9, 2006. While watching the launch of the Shuttle Atlantis from the Kennedy Space Center, I saw the media stands where Mr. Cronkite once sat and, with NASA astronauts adding commentary, brought us the Apollo launches that I and millions of others watched live.

Many will probably say that Mr. Cronkite's passing represents the end of an era for television news. But the era, I think, was ending earlier, while he was alive, as broadcast ownership and managements began to change, not once, but repeatedly, and as cable and other technology started creating new challenges for the industry. The broadcast news profession was starting to undergo a profound change, and its long-held stability was the first casualty.

When broadcasters started losing more and more audience in the 1980s, consultants advised them to go younger and sexier to get viewers back. By then, the Cronkite look was dinosaur era. "Make it sizzle and splash," broadcasters were told. Entertainment started nudging its nose alongside news content.

Infotainment was in.

I wish the broadcasters had instead gone to Mr. Cronkite and asked, "What would you do to keep our audience?" My bet is that he would have told them the answer in a few simple words: "Keep doing what you do best."

Mr. Cronkite wasn't slick or flashy. He never tried to be. It wasn't his character, and it wasn't why he was on the air. "That my delivery is straight, even dull at times, is probably a valid criticism. But I built my reputation on honest, straightforward reporting. To do anything else would be phony," he said.

I missed out on the Edward R. Murrow era. But I call the Cronkite generation home. And I feel for people who missed it, and who instead rely on today's broadcast news diet, one I think of as the rough equivalent of lots of empty calories with virtually no nutrition. It caused me to go through a big change, turning from someone who lived and breathed the news business 24 hours a day to someone who pretty much stopped watching years ago.

What an amazing transition the industry has gone through in the years since Mr. Cronkite retired. The Cronkite era was all about "get it right." Today's era is "get it first," regardless of other considerations. So, I'm old fashioned? Guilty.

Technology changed everything, including the definition of news.

In the Cronkite era, covering news meant sending a crew to some remote part of the world where they shot film. The film would typically then have to be flown somewhere else to be developed (often, back to New York). Today, anyone with an iPhone can shoot video and upload it to the Internet for the world to see in a matter of seconds.

In the days of Mr. Cronkite, breaking news meant that you stopped whatever it was you were doing, sat down, and watched what he had to say. You didn't even have to ask if something big had happened. Today, breaking news means newly discovered footage of Michael Jackson's hair on fire.

After the Cronkite era, I started feeling less and less payoff for the time spent watching. I'd be hard pressed to tell you who's on any of the channels today. You can't go back, but I secretly wished for the days when faces with wrinkles and few showmanship skills delivered factual, informative accounts of events that really affect us. I longed for the people who wanted to be on the air, not to be stars or famous, but to communicate information that mattered to us. That's what attracted me to the business.

Distracting graphics, messages that pollute the screen, swish sound effects, slick coiffures and people talking at the same time instead of listening? No thanks. What happened to the good story telling and investigative reporting where tough questions were asked? Nowadays, you have to really hunt to find those.

I had many wonderful experiences during my years in broadcasting and still respect the difficult and often dangerous job journalists have. But the changes I saw coming in the administrative offices and on the air told me it was time to move on.

The end of the Cronkite era is as close as your television set. Not many years back, during the 9 p.m. news on one of the network affiliates in my market, the long time anchor said, "We have some breaking news to tell you about tonight." The picture switched to video, live from the scene, showing a parked fire department rescue truck that had been involved in a fender bender while responding to an emergency call. Nobody hurt; just a torn up front bumper. If I had been the anchor reading that, I would have been embarrassed.

When I was a television news reporter in the 1990's, a supervisor at our daily editorial meeting (where we decided what stories to cover) turned down my suggestion of doing a report about the local area's economy. "That's a newspaper story," she said.

I don't think editorial decisions like these would have been likely in the Cronkite era.

A friend and former television news anchor commented recently on the changes the industry has undergone. "Journalism isn't an honest profession, anymore," he said.

The question more and more people ask today about the news media's coverage of many subjects is usually the same: What are they not telling us? Is the coverage balanced? Are we hearing all the sides? So much reporting has become so superficial and often one-sided (a concern Mr. Cronkite himself spoke about) that our skepticism of the media grows more all the time, while our confidence in it drops.

Most kids had baseball players or cowboys as their heroes. Mine was Mr. Cronkite (though Sky King, with his ultra cool twin engine Cessna, and Commander Scott McCloud with his spaceship Starduster from the science fiction cartoon Space Angel, were pretty close behind).

I wish I had written Mr. Cronkite a letter. I could have told him how much I appreciated the job he did. I could have told him how much I wish the electronic media could be trusted and relied upon again, more like it was when he and the associates of his day were on the air.

Most of all, I would just tell him, "Thank you."