Creatures of Mother Nature 
Sitting at my computer desk today, I looked out my window and noticed some wonderful creatures of nature.  There were birds pecking away at the bird feeder my grandson gave me for Christmas.  To my surprise, the bush next to birdfeeder was moving.  Someone or something caught my eye…….a chipmunk!  "IT" jumped from the branch and rode the feeder until it stopped swinging.  There it was filling its' pouches with bird feed.  It was experiencing a feeding frenzy and then stopped to peek in my window and froze.  In that split second I snapped the attached photo.  Amazing!
What next? 
Then I stopped and marveled at Mother Nature.  The developers design neighborhoods, builders build them, we move in and still Mother Nature has her creatures living with us.   We are all her creatures!
Then while preparing dinner I turned around in the kitchen to look out the bay window and see a deer in our backyard!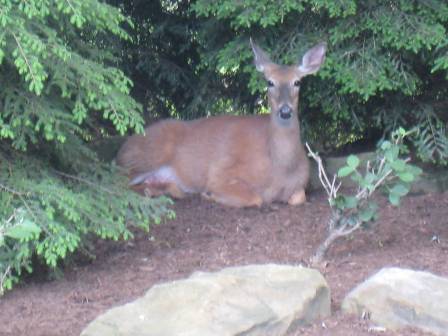 A wonderful day indeed!  Remember to take time to enjoy the many creatures and shows Mother Nature provides to us - and they are FREE!