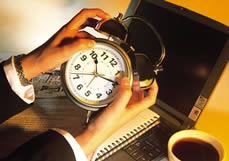 Have you ever had your day end and wonder where it went? Have you ever been frustrated by how reactive you have been to "emergency" situations that significantly reduced your productivity?

Many of us have experienced this to an excessive degree in our business practices. One of the greatest ways to eliminate the reactive state we find ourselves in is to practice the art of Time Blocking. Time Blocking is about scheduling your day with purpose, making sure the things you need to get done DO get done. This applies to work and personal activities. Remember, the more proactive you are with your day, the less reactive you will be.

Dedicate yourself to the following exercise for 2 weeks. Each morning, start off by blocking your entire day in ½ hour increments. The result might look something like this:


| | |
| --- | --- |
| 8:30 - 9:00 | Check emails and voice mail |
| 9:00 - 9:30 | Return calls |
| 9:30 - 10:00 | Prospect for new business |
| 10:00 - 10:30 | Staff meeting |
| 10:30 - 11:00 | Check voice mail and return calls |
| 11:30 - Noon | Strategies new business planning |
| Noon - 12:30 | Return calls |
| 12:30 - 1:00 | Break for lunch |
| 1:00 - 1:30 | Return calls |
| 1:30 - 2:00 | Meet with client |
The key to this type of planning is to check your voice mail and email each hour and return messages promptly. The reason is simple: If you let too much time lapse before you respond to your client, it will tear you away from your time blocking schedule. The temptation to check the red light blinking on your phone, or respond to that electronic voice saying, "You've got mail," will be too great to resist. Remember, time blocking is about commitment. The more you live your days proactively, the more work you will get done.
| | |
| --- | --- |
| Pennsylvania: Licensed by the PA Department of Banking as a First Mortgage Banker and licensed pursuant to the PA Secondary Mortgage Loan Act. New Jersey: Licensed by the N. J. Department of Banking and Insurance Maryland: Authorized Mortgage Lender by the State of Maryland Commissioner of Financial Regulation. Florida: Licensed Mortgage Lender by the Florida Office of Financial Regulation. Delaware: Licensed Lender by the Delaware Office of the State Bank Commissioner. | |


Karl Peidl
Lincoln Mortgage Company
251 Bellevue Avenue, Suite 102
Hammonton, NJ 08037

kpeidl@linc-mort.com
www.facebook.com/newjerseymortgages


© Copyright 2009. All About News, Inc.