If you're thinking Hudson, Florida You must be Thinking Golf at The Links
Since The Links in Hudson Florida is one of my favorite Golf courses, and they do not have a web presence, at least as far as I can tell, I figured they deserved to be highlighted.  I had included them in a previous blog post here: http://tinyurl.com/poxro9
I know of no other course where you get so much bang for so little
buck.  Want to take a quick break from everyday life, but can not put in a full 4 hours on the Golf Course?  Get a bucket of Balls for just $5 and drive away your stresses on the Driving Range for a nice diversion.
And since I am talking about the Driving Range I want to remind you to keep it in the back of your mind as you go after your drive on the 9th hole because the driving range parallels the hole but in opposite directions.  So as you move up the fairway on the 9th you need to be aware of any stray slices/hooks that may find their way into your game.  As not so good player, my big threat is trying to retrieve my hooked drive from the Driving range.  That is not a good idea
And while this is not World Woods or Bethpage Black, it can not be beat in its price range from $15 to $40,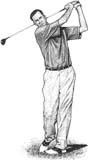 a round including cart.  The Golf Course winds through The Estates of Beacon Woods, The Reserve and The Fairway Oaks Subdivisions.  And after the 12th hole you have to go through a tunnel under Little Road (CR-1) to get to the 13-16th holes, and than come back under to finish out your round.  And it has been a pretty consistent 4 hour round for me.  My brother and his best friend have done it in 2 hours during twilight rates, but....
Now during Snowbird season, the course can get backed up a little bit at a couple of congestion prone areas, usually preceding a par 3, but that is usually the best time to meet new and interesting people to network with.
At The Links Golf course in Hudson, FloridaI have met people from Canada the Midwest and the Northeast so far.  And if you would like to get a view of the layout of the Golf Course you can go here: http://tinyurl.com/ppgkz5
At http://tinyurl.com/ppgkz5 they claim The Links Golf Course is a 72 par, but to my knowledge, it is actually a 71 par Golf Course
The Links Golf Club
8706 Pavilion Dr
Hudson, FL 34667
(727)868-1091
You can find some good stats about The Links  at http://tinyurl.com/p9zgkl
And if you are really into golf you can get flyover views for a premium at http://www.golflink.com/golf-courses/course-flyover.aspx?course=1312356