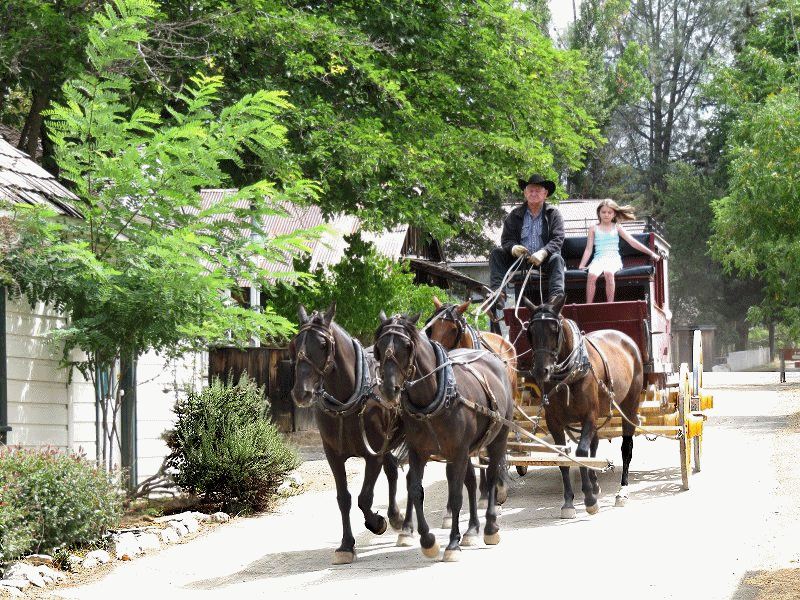 For those of you, who have been following my blog, you know that I have a fascination for the California Mother Lode - the little towns, and their history. A few days back, I wrote about Amador City a little treasure along the Highway 49 daisy chain of California Gold Rush towns that make up the tapestry of rich California history.

Late last week, I gathered up a couple more grandkids, and my camera. We jumped in the car, and headed off once again, traveling south east on highway 16, which connects up with highway 49 further south east through the likes of Dry Town, Amador City, Sutter Creek, Jackson, San Andreas and Angels Camp, before reaching The Gem of the Southern Mines, Columbia.

Of all the little Gold Rush towns still in existence today, Columbia is one that I enjoy the most for its original feel. The town's landscape filled with the old Wells Fargo building, stores, blacksmith shop, and saloon, continue on the very dirt streets and roads they existed on originally.

The little town got its beginnings on March 27th 1850, when Dr. Thaddeus Hildreth, and his brother George, with a handful of other prospectors, made camp near there. They found gold, and miners streamed in to share the wealth.

Within the month, Hildreth's Diggings, a tent and shantytown housed several thousand miners. It's original name was soon changed to American Camp, and then ultimately to Columbia.

The history of the little town was almost doomed to be very short. Water, which is indispensable for mining placer gold, was in very short supply. And, there were no natural streams in the area - only gulches carrying runoff from rain and snow. So, in June 1851 the Tuolumne County Water Company was created to bring water into the area. Because the water company's rates were exhorbitantly high, the miners formed the Columbia and Stanislaus River Water Company in 1854. This new company built a 60 mile aqueduct to supply the mines. The new system was not completed fully until 1858, when the more easily worked gold deposits had been exhausted and the miners began moving out. Because of this, the Tuolumne County Water Company acquired the new system, which cost over $1 million, for under $150,000.

Columbia's tents and shanties began being replaced with permanent structures. By the end of 1852 streets were laid out, with more than 150 shops, stores, saloons and other enterprises, all going strong. There was also a church, a Masonic Lodge, and even a branch of the Sons of Temperance (if you can imagine any kind of temperance in a mining town).

Recognizing an opportunity to preserve a typical Gold Rush town as an example of one of the most colorful eras in American history, the California State Legislature in 1945 created Columbia State Historic Park.

For more information about Columbia State Historic Park you can visit the Columbia Chamber of Commerce website.

For the best roast beef sandwich, pickles, chips and sarsparilla around, show up at Jack Douglass Saloon in the center of Columbia, 22718 Main Street. Kids are welcome too!