Mortgage Rate Update
How Does Inflation Impact Interest Rates?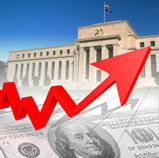 If you've seen the news lately, you know that inflation is a very serious issue that will likely be on the rise as the year proceeds.

But What Does This Really Mean to You?
The bottom line is that as inflation increases, mortgage rates will rise too. That's because lenders know that a rise in inflation actually diminishes the value of the money they receive over the life of a loan, as the money they receive for payment simply won't go as far.

So when lenders see changes in inflation or even anticipate a rise, they increase their mortgage rates to make up for the loss in future buying power that will happen as a result of inflation.

What Should You Do?
Work with a home loan professional who pays close attention to what's going on with inflation-not only with the reports that come out, but also with the concerns that legislators and lenders express. After all, lenders may raise rates to protect their money as soon as they feel the tide turning.

More importantly...if you or any of your family, friends, neighbors or co-workers have been considering a purchase or refinance, this is a great time to act as home loan rates could be on the rise.
Mortgage Interest Rates*
Rates as of Thursday, 13th August, 2009:
Conforming

APR

Payment per
$1,000

Jumbo

APR

Payment per
$1,000

30-Yr. fixed

5.500%

5.635%

$5.68

5.875%

5.977%

$5.92

15-Yr. fixed

5.000%

5.227%

$7.91

5.375%

5.543%

$8.10

7-Yr. fixed ARM

4.875%

5.005%

$5.29

6.875%

6.983%

$6.57

5-Yr. fixed ARM

4.250%

4.375%

$4.92

6.500%

6.606%

$6.32

3-Yr. fixed ARM

4.250%

4.375%

$4.92

6.500%

6.606%

$6.32

5-Yr. Interest Only

4.375%

4.501%

$3.65

6.750%

6.857%

$5.63

FHA 30-year fixed

5.500%

5.635%

$5.68

5.750%

5.851%

$5.84
*Rates are subject to change due to market fluctuations and borrower's eligibility.
Karl Peidl
Lincoln Mortgage Company
251 Bellevue Avenue, Suite 102
Hammonton, NJ 08037

609-878-7013

www.facebook.com/newjerseymortgages

Pennsylvania: Licensed by the PA Department of Banking as a First Mortgage Banker and licensed pursuant to the PA Secondary Mortgage Loan Act. New Jersey: Licensed by the N. J. Department of Banking and Insurance Maryland: Authorized Mortgage Lender by the State of Maryland Commissioner of Financial Regulation. Florida: Licensed Mortgage Lender by the Florida Office of Financial Regulation. Delaware: Licensed Lender by the Delaware Office of the State Bank Commissioner.




© Copyright 2009. All About News, Inc.