So you're driving along this quiet, country lane and all of a sudden you pass a cute little white frame house with a funny eared dragon's head sticking through the roof smiling at you.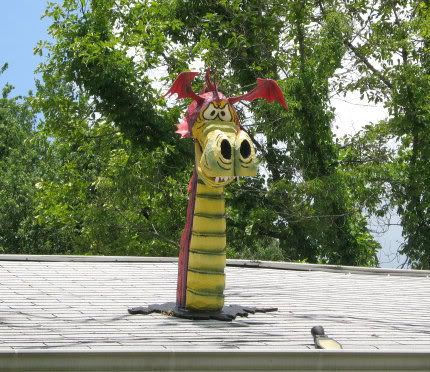 Whoa....................it's 11 AM, I haven't had anything to drink since that glass of Chianti Friday night......I'm not asleep I don't think, so what the heck is going on here.
I turned around and went back.........sure enough the funny eared dragon is still there along with this guy
and a whole menagerie of whimsical characters.
It seems David the owner has a great sense of humor and creates these characters and objects around his house for the enjoyment of passers by.
Nothing for sale, just a hobby for him although he's a pretty talented artist to create some of the stuff setting around his yard.
This is the tree guy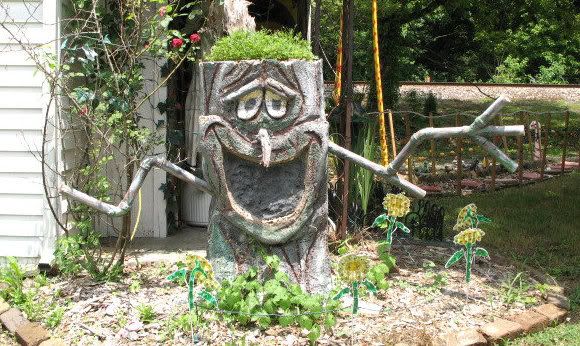 Meet Fred Flintstone
Leggos made from old Coke crates
A 6 foot tall pink flamingo
A very tall, very skinny giraffe
And this one, my personal favorite. If you've ever tried to think of a use for those old beach umbrella sized satellite dishes here's how to recycle two of them.
Put two of them together to make your very own, personal flying saucer.....surely the ultimate lawn accessory. ;-)
If you're even driving along Central Avenue Pike in the North Knoxville Tennessee area and you see a dragon with funny ears sticking his head through the roof, Fred Flinstone standing in the back yard or a flying saucer that has just landed you're at David's house. Stop by and have a look, he's a very friendly guy.