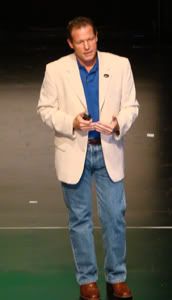 Larry Janesky's inspirational daily snipets for business and for life in general.
Admired by business coaching superstars and inspirational gurus, such as Brian Tracy and Tom Peters for his non-nonsensical, down-to-earth and yet innovative business model, Larry Janesky, owner of Basement Systems Inc, is now offering business and life inspirational bits in his new micro-newsletter ThinkDaily.com.
Everyday, ThinkDaily subscribers get an email containing tips, suggestions and food for thought, as well and Larry's own proven strategies for success both in business and life.
Janesky's unique approach to business transformed a mundane business in a multi-million dollar worldwide enterprise and allowed his company to remain growing steadily even in tough economic times.
Basement Systems, which is now the world's largest basement waterproofing network with over 300 dealers in 6 countries, recently incorporated 7,000 square feet of office space and a$4.5 million, 57,000-square-foot adjacent new warehouse to its headquarters.
The company holds 24 patents for waterproofing products and technologies, as well as 22 quality and innovation prizes for products and services.
It is the only business in the state to win the Connecticut Better Business Bureau's prestigious Torch Award for Workpkace Ethics 3 times in a row.
A good example of Larry Janesky's creative and forward thinking is the highly publicized Tree House Project, created as an inovative solution to house the company's ever growing Internet Marketing Department, now known as the most unique workspace in Connecticut.
When asked how he developed such a keen and unparaleled business wisdom, he answers: "There are hundreds of places you can innovate in your business," Janesky says. "Most [business owners] see it as motions that you just go through - but I don't see it that way."
According to him, every process is an opportunity to add value."Not just in the product, but in the way you pay people, the way you communicate to your customers, what your products look like, colors - something as simple as taking what the whole world thinks should be a black part, and making it red. It jazzes things up a little and tells the world, 'Hey - we're different.'"
To receive your ThinkDaily newsletters, point to: http://thinkdaily.com and sign up.