MOM and DAD 1942
My Dad is 88 years old. He was traveling this Father's Day. Giving me the opportunity for Reflection.
Coming up with creative "Gifts' for Father's Day, Birthdays and Holidays for a man of his years is a challenge...it has been for some time!
So this year I decided to write a "Memory" Blog documenting in words a trip we took together in 2004.
It was for his 85th Birthday. I sent an invitation for him to join me, my husband and son on a Memory Journey. A journey to re-visit places in New Hampshire I remember he and my Mother taking us to as kids. Places I knew he hadn't been to in many, many years!
A MEMORY JOURNEY WITH DAD 2004
We started the trip in "The Notch" as kids every year the family would go to. The Old Man, The Basin, Echo Lake and of course The Flume. The Flume is quite a challenge so we contented ourselves with a great shot at the "New" fancy entrance and a shot of the Falls!
THE FLUME
TWO GENERATIONS
Then on to the Mount for mid-morning rest and refreshment! Mon and Dad often took us to "The Mount" (Mount Washington Hotel) just to sit on the Veranda and have an ice cream. It is such a beautiful Place! Many years later my husband and I stayed there for our 25th anniversary and it did not disappoint!

THE MOUNT WASHINGTON HOTEL
RELAXIN ON THE VERANDA
GRAND ENTRANCE
Our next stop...Diana's Bath's
Back in "The Day" when we went as kids there weren't any State signs or markers. This was a place know only to a few . The information passed down from Father to Son. My Dad's Dad had shown him this place and he showed his children. The path to the Baths was through a farmer's field it was a well worn path, but if you weren't looking for it ......
The Baths are made up of large smooth sliding rocks and many crystal clear pools for swimming!
The Water is usually loud and furious but this year was a dry Spring and it was not as he remembered!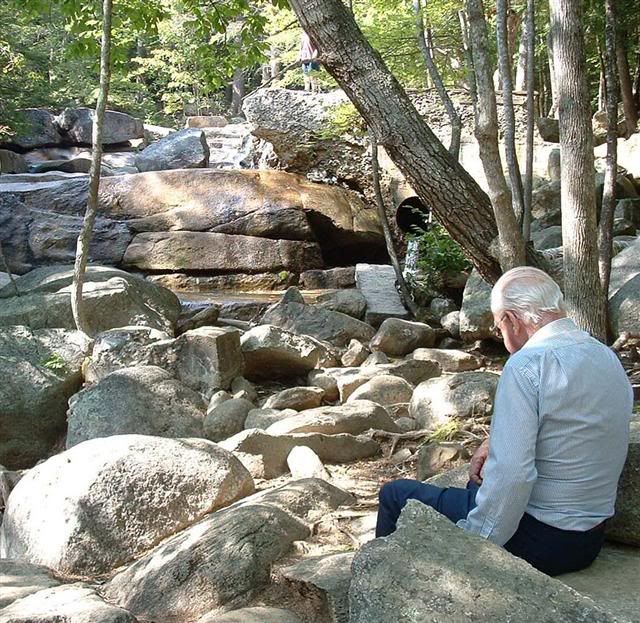 After a brief rest...it was on to our last stop!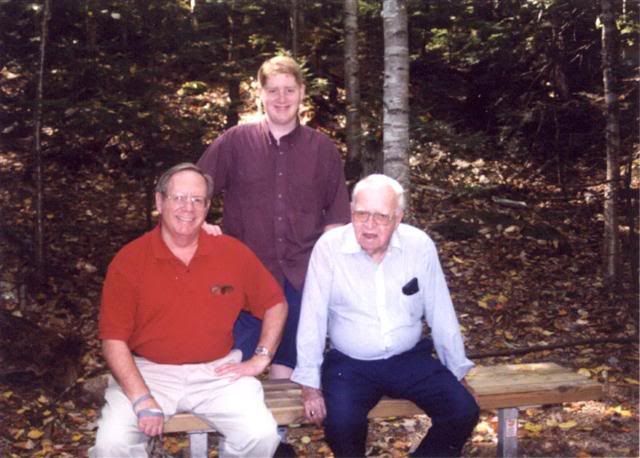 THREE GENERATIONS
The trip would not have been complete without visiting The Wright Museum in Wolfboro, New Hampshire. This place is a remarkable tribute to the Men and Women who served in WWII.
My Dad served in the 4th Armored Division on the European Front and was thrilled to find an actual tank that would have been used by his Unit!
It was a great day for all of us and I think my Dad really enjoyed his trip down Memory Lane ! The Birthday celebration ended with a great dinner and Birthday Cake at a local Restaurant!