This is a must do if you are in the Sassamansville area. A great place to have familiy memories. You can bring your own apples.
In the cooking room, whole apples are dumped into the cooking barrels which have the heating coils inside.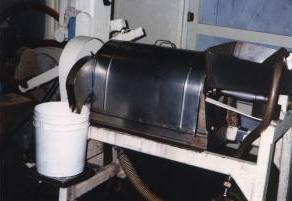 After the cider is all cooked in, the apple butter goes through the screener to take out the skins and seeds from the whole apples that were put in the barrel at the beginning.

The apple butter is then cooked for another 1 - 1 1/2 hours until thick.
The apple butter is put into jars with an automatic filling machine. Most of the caps go on with an automatic capper, although sometimes they go on by hand.
Here are some of their products:
Apple Butter Apricot Butter Blueberry Butter Cherry Butter Chili Sauce Cranberry Applesauce Honey Peach Butter Ketchup Peach Butter Peach Preserves Pear Butter Plum Butter Pumpkin Butter Strawberry Applesauce Strawberry Butter Strawberry-Raspberry Strawberry-Rhubarb Sweet Tomato Butter

Link for more info: http://www.baumanfamily.com/
116 Hoffmasville St
Sassamansville, PA.
Phone: 610-754-7251
Keller Williams Real Estate
601 Bethlehem Pike
Building B, Suite 100
Montgomeryville, PA 18936
Main Office: 215-631-1900
Direct: 215-850-9640 · Contact Form